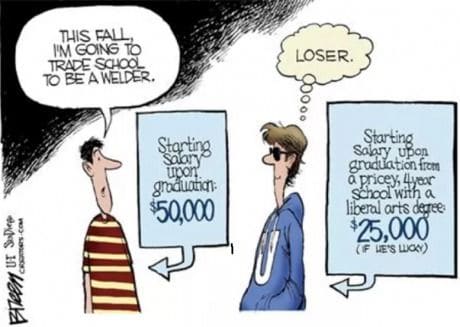 College degrees are expensive these days. Many college graduates wind up with five-figure debts and still no job prospects once they graduate. To avoid that, many people are now looking for jobs that don't require a degree. While some may assume that these are low-paying jobs, many are not. If you're looking for a job that doesn't require a degree, you might want to consider "Trade School" or other possibilities. They pay well and best of all, they don't require a 4 year degree.
1. Fixing Pipes
If your sink's clogged and the person fixing doesn't have a degree, would you care? The answer is "probably not" if that person is a licensed plumber. Plumbers can start their careers by working a four-to five-year apprenticeship. They're able to start this right out of high school, and it's a paid gig.
Granted, the average plumber's apprentice makes 30% to 50% of what a fully trained plumber makes (but at least they are being paid while learning rather than paying to learn). Plus, job growth for this job is over 16%, and the average plumber can expect to earn over $51,000 a year.
2. Computer Support Jobs
These days, it's difficult to imagine living without a computer. A computer is great when it works and a pain when it doesn't. For the days when they don't, there are computer support specialists. These professionals make about $48,000, even without a degree. Many can get certifications in various computer-related topics. Job growth for this career is at 19%.
3. Careers in Real Estate
The real estate market is wide open. Most who work in the industry don't have a degree. Rather, they take training and get their real estate license. This teaches them about contracts, real estate law, and other pertinent information. Most real estate professionals make between $50,000 and $70,000 a year. The disadvantage is that the Real Estate market has its ups and downs.
Additionally, many of these professionals go on to do real estate investing or house flipping. For this, they can learn on their own or get training from programs like Flip or Flop Seminars, which teach students what they need to know about flipping houses to make money.
4. A Pilot's Life
Most airline pilots need to have a bachelor's degree before they can become a pilot. However, those pilots who opt for careers involving aerial photography, charter flights, firefighting, and other types of flying only need to have a high school diploma, according to Kiplinger.
That isn't to say that these flying professionals don't get training. They do and plenty of it. They fly up to 40 hours with an instructor. They then follow that up with another 250 hours of flying before they're awarded a pilot's license. These professionals earn up to $75,000 a year.
5. Sales Representative
For those who know how to sell, the sky is the limit. The people who work in service sales jobs often work in the fields of telecommunications, technical consulting, or skin care. (This list isn't exhaustive by any means.) On average, sales reps make over $51,000 a year, although those who earn commissions can earn considerably more than that. Industry growth is projected at 15%. Many start these jobs after finishing high school.
40 Other Trade School Possibilities
Trade schools often require a year or less to get your certification and cost significantly less than a 4 year degree. Be sure to check the school's job placement rates and compare costs before enrolling. It is also a good idea to check the Bureau of Labor Statistics Occupational Outlook Handbook for job growth statistics and average salaries.
Accounting
Anesthesia Technology
Automotive Technology
Aviation Maintenance
Baking & Pastry
Cloud Technologies
Commercial Diving
Cosmetology
Crime Scene Technology
Criminal Justice
Culinary Arts
Dental Assistant
Diagnostic Medical Sonography
Diesel & Industrial Technology
Dietetics and Nutrition
Digital Filmmaking & Video Production
Diving Equipment Repair
Electrical Trades
Emergency Medical Technician
Fashion Design
Fashion Merchandising
Game Art & Design
HVAC Technician
Hyperbaric Chamber Technician
Interior Design
Medical Assistant
Medical Billing and Coding
Medical Office Administration
Network Engineering
Network Technician
Nursing
Paralegal
Patient Care Technician
Pharmacy Technology
Project Management
Radiologic Technology
Respiratory Therapy
Surgical Technology
Underwater Digital Photography
Veterinary Technician
The amount of debt that people graduate with can make them feel like an indentured servant for many years. Because of this, more and more people are looking for jobs that don't require a degree. These jobs pay at minimum in the high $40Ks, though many pay even more. They're in demand, and people who want a career in one of these jobs can start straight out of high school.
You might also like: