Radio Host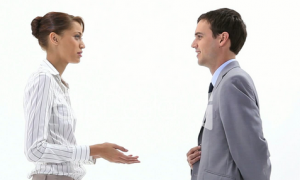 Professional radio hosts make their job look easy, but in reality it's a job that requires a specific skill set. Staying up-to-date on current events, being aware of popular trends, and conducting live interviews demands an avid talker who's not afraid to keep the conversations going. A host must also not be afraid of putting their foot in their mouth at times. According to the U.S. Bureau of Labor Statistics the average radio host earns $27,010 per hour, however getting you show "syndicated" can multiply your earnings, top syndicated radio personalities can earn hundreds of thousands per year.
Reporter
For those who enjoy getting to know people through conversation, becoming a reporter offers the perfect opportunity to hone those conversational skills. Reporters do more than investigate stories, and write compelling articles. Using journalistic training and a desire to know more, reporters get to the heart of interesting people and things by holding deep and involved conversations. According to the BLS in 2010 the median salary for a reporter was $36,000 per year.
Marketing Expert
Talkers do well when they have an audience, and the field of marketing welcomes those who can tell a good story. Both a practical and creative job, marketing offers avid talkers the chance to expand on their natural storytelling ability, while helping businesses and organizations expand their brand. According to the BLS, Market Research Analysts earned an average of $60,570 in 2010 and the job is expected to grow much faster than average while marketing managers averaged $120,000 per year.
Motivational Speaker
Not every extrovert starts out as a chatterbox. For social butterflies who blossomed late in life, can find that becoming a motivational speaker is a chance to inspire others. They can host conferences, interact with different people, and show future generations how to hone their garrulous habits into career-enhancing traits. Motivational speakers can earn thousands of dollars per speech but also often work on a commission basis based on the "back of room" sales of their product.
Real Estate Agent
For the naturally loquacious, real estate provides the perfect outlet for conversation and entrepreneurship. Becoming a realtor requires constant interaction, and the ability to find a great home for clients. A graduate of Brooklyn REI says that this career gave her the perfect opportunity to get to know many people, and expand her friendships. Find a course to get started at http://www.brooklynrei.com/ and learn more about a career that can make use of your mouth. Real estate sales agents averaged $42,680 in 2010 but the salary is based on performance. Jobs are expected to grow about 11% from 2010 – 2020 or about equal to the average.
Keep in mind that even avid talkers need to practice their listening skills when it comes to landing a great job. The best salespeople, radio hosts, and marketing experts know when to keep it quiet in order to hear what their clients have to say. No matter the type of industry where you find yourself, using your skills as a constant conversationalist can lead to exciting opportunities throughout your career.
See Also: