With the abundance of college graduates with degrees in "soft" subjects like Psychology, Drama, Anthropology, Liberal Arts, English and History  unable to find jobs when they graduate you might think that a more job specific major like Business, Economics or Criminal Justice might be more appropriate. But recent findings by Payscale have found that Criminal Justice majors have little advantage over High School grads and end up working security or as entry level police officers, Economics majors "should have learned in Econ 101: In the job market, the supply of econ majors outstrips demand". And even business majors "need a concentration in quantitative courses such as statistics or finance" in order to succeed.
So unless you want to major in one of the "hard science" subjects like Engineering or Computer Science you might be better off skipping college and attending a Technical School that will train you for a specific profession. ~Tim McMahon, editor.
Technical Training Programs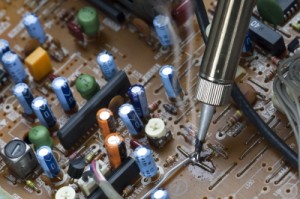 Technical schools–also known as vocational schools, trade schools or career colleges–prepare students for specific jobs that they can pursue after graduation. Occupations taught at technical schools include electronics technician, automotive technician, welder, paralegal, licensed practical nurse, medical assistant, hair stylist and truck driver.
The length of each program varies depending upon the vocation you pursue. There are hundreds of technical schools and programs in the United States. While some offer a quality education, others are disreputable and mislead students about the qualifications of their teachers, the nature of their facilities, their ability to help place you after graduation, and the potential salary and availability of jobs in which you are interested. For these reasons, it is imperative that you research technical training schools carefully before you commit yourself to a program.
Determine What You Need
Because technical schools prepare you for specific jobs, the first step is to determine exactly what you are looking for in a career. This will narrow the field, because not all schools will have training programs in the field in which you are interested. Be sure that the education, degrees and experience of the instructors qualify them to teach you the skills you need to learn.
Research the School Online
Check the school's licensing and accreditation, as these details are important to prospective future employers. State agencies handle licensing, while accreditation is usually obtained through a private educational agency or association. Find out the school's completion rate, as a large number of dropouts indicate that students are not satisfied with the program. When you consider the tuition, remember to include extra expenses such as fees to add or drop classes, lab fees, graduation fees, and the cost of books and other equipment. If you need financial assistance, find out if the school is recognized by the U.S. Department of Education–which would make you eligible for federal student aid–and if the school has supplementary financial aid programs.
All reputable schools have a comprehensive online presence. Study the school website and the details of the classes you would be attending. Search for online reviews of the program to get a range of opinions. Use social media networks like Facebook to get in touch with current students and to find out how satisfied they are with their educational experience.
Contact Alumni
Try to contact alumni of the school to determine how valuable, in retrospect, they consider their participation in the training program. Find out how much the school helped them in their job search and whether prospective employers found the certificate or degree from the technical school a valuable asset. Try to get an idea of how many alumni actually found jobs in the field they trained for after graduation.
Visit the School
The best way to get a feel for a school is to arrange a visit. Have a close look at the school's equipment, classrooms and facilities. If possible, sit in on a few classes, and talk with some of the instructors and students. Imagine yourself studying there and build an impression of how you would like to learn there.
As a last step, to find out if there have been any complaints about the school, contact the local Better Business Bureau and Attorney General's office. Also remember that it is better not to put all your hopes in one possibility, but to research several schools in case your first choice does not work out.
 You might also enjoy:
Earl Sampson is a freelance writer specializing in education, professional development, employment opportunities, career advice, technical training programs and other kindred topics.
Image courtesy of Toa55 / FreeDigitalPhotos.net.