To become a plumber you may not need any previous experience or academic qualifications, but there will be certain skills you need to demonstrate.
Some courses and apprenticeships may require a number of GCSEs, whereas others are open to everyone. Despite the lack of need for formal qualifications, plumbing isn't for everyone so you need to evaluate your suitability based on your own individual skill-set.
Note: The General Certificate of Secondary Education (GCSE) is an academic qualification awarded in a specified subject, generally taken in a number of subjects by students aged 14–16 in secondary education in England, Wales and Northern Ireland.
Physical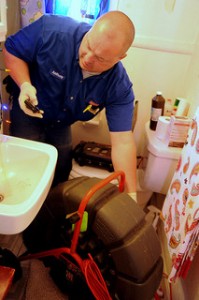 It may not seem like a particularly physically demanding job at first, but plumbers need to have some dexterity and flexibility. Small confined spaces underneath sinks and round the back of appliances means that you might end up stuck in an uncomfortable position for some length of time.
While it may be awkward, you will still need to be able to do the job in hand. It's also likely that you'll need to climb ladders or steps and lift heavy items, so a reasonable level of fitness is essential.
Academic
It may not be necessary to have 10 GCSEs and 4 A Levels to become a plumber, but there are some basic skills you will need, particularly in mathematics.
You'll probably have to do some arithmetic and use statistics for certain projects but it's also possible that physics will come into play with fluid movements and pressure. But often tables and standard sizes are available so you probably won't need to do the calculations yourself.
If you left school without any qualifications in these areas, you may get the chance to show your natural abilities and develop your knowledge on plumbing courses.
Personal
As a plumber, most of your work will be carried out on other people's premises. You may have to enter residential homes, commercial places of work or building sites, so it's important you're able to communicate effectively and have high levels of person integrity.
Although plumbers can work alone without any supervision, there is often a team of people around which can include the client, project manager or architect.
Technical
When working on a job, plumbers will have to use a number of different tools and materials to complete a job. For this reason it's important that you understand how each piece of equipment should be used.
Other technical skills may include construction or design techniques and the ability to analyze technical drawings.
Multitasking
Often when working on a job, there is a lot to do in a short space of time – after all, you can't keep people waiting for hours on end!
You might have to solve a problem quickly while talking to the client or perhaps perform a repair whilst monitoring the situation for any other issues.
It's important that you can do a few things at once without losing concentration on any individual task so multitasking is another essential skill.
See Also:
Plumber Resources:
Image by Wonderlane on Flickr