Job Creation in May
According to the most recent Gallup survey results U.S. job creation is at a 19 in May down from 20 in April but up from 18 in March. Gallup interviewed 16,913 workers in May and asked them whether they felt their employer was increasing, decreasing or maintaining the same size workforce. This is not the same as asking employers about actual jobs they have created but gives an indication of the perception of the people. Gallup believes that this is a strong predictor of the direction of Unemployment and U.S. Jobless claims.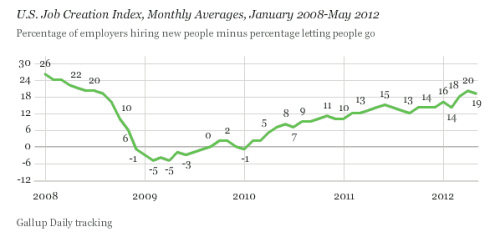 According to Gallup, the +19 for May is comprised of 35% of the nationwide workers surveyed saying that they thought that their company was increasing their workforce (hiring) while 16% of those surveyed said they felt their employer was decreasing their workforce (laying-off). Thus 35-16=19.  The remaining 49% of the workers surveyed said that their company was holding steady neither hiring or firing.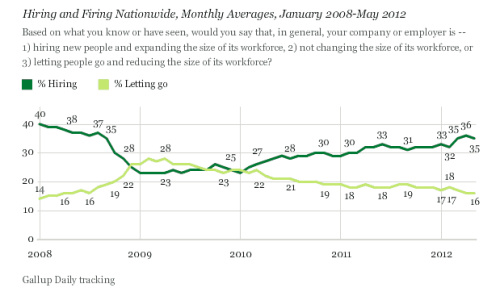 According to the U.S. Bureau of Labor Statistics (Seasonally adjusted ) the Non-Farm payrolls in May increased by 69,000 jobs. Unfortunately, the U.S. adds about 167,000 new men,women and children every month. Of course not all of them are workers but 69,000 new jobs will just about provide for 167,000 new people so the net effect is that the Unemployment rate would stay about the same.
The one ray of hope according to Gallup is that Government job creation which has been negative since 2009 has ticked up from -7 in April to -3 in May even though private sector hiring fell from 25 to 23. Gallup believes that overall the level is relatively flat for the month of May and that we will have to look at next month's data to see if a trend is developing.
See the full article U.S. Job Creation Largely Steady in May on Gallup.com
Sources:
Labor Statistics- Employment Situation — MAY 2012