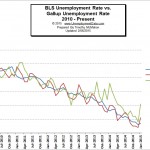 The U.S. Bureau of Labor Statistics (BLS) released the Unemployment rate for January 2015 today. Adjusted U-3 unemployment rose "insignificantly" from 5.6% to 5.7%. Unadjusted unemployment rose more significantly from 5.4% in December to 6.1% in January. Unadjusted U-6 unemployment i.e. including discouraged workers who have given up looking plus those working part-time but seeking full-time employment jumped from 11.1% in December to 12.0% in January.
But the big news is that Jim Clifton the CEO of Gallup said that unemployment is really closer to 9%. Here's what he said:
There's no other way to say this. The official unemployment rate, which cruelly overlooks the suffering of the long-term and often permanently unemployed as well as the depressingly underemployed, amounts to a Big Lie.

I hear all the time that "unemployment is greatly reduced, but the people aren't feeling it." When the media, talking heads, the White House and Wall Street start reporting the truth – the percent of Americans in good jobs; jobs that are full time and real – then we will quit wondering why Americans aren't "feeling" something that doesn't remotely reflect the reality in their lives. And we will also quit wondering what hollowed out the middle class.
Based on demographic trends, I suggest the real unemployment rate after weeding out disability fraud, forced retirement, kids hiding out in school for lack of a job, and those who are not counted as unemployed simply because they gave up looking is more like 9% than 7%.
Gallup currently says the traditional calculations for unemployment result in 7.1% unadjusted U-3 unemployment and 15.8% U-6 unemployment. Even these numbers are significantly higher than the BLS numbers of 6.1% and 12%. But what Mr. Clifton is saying is that the situation is much worse than the rosy BLS numbers portray because there are other factors at work masking the true state of unemployment.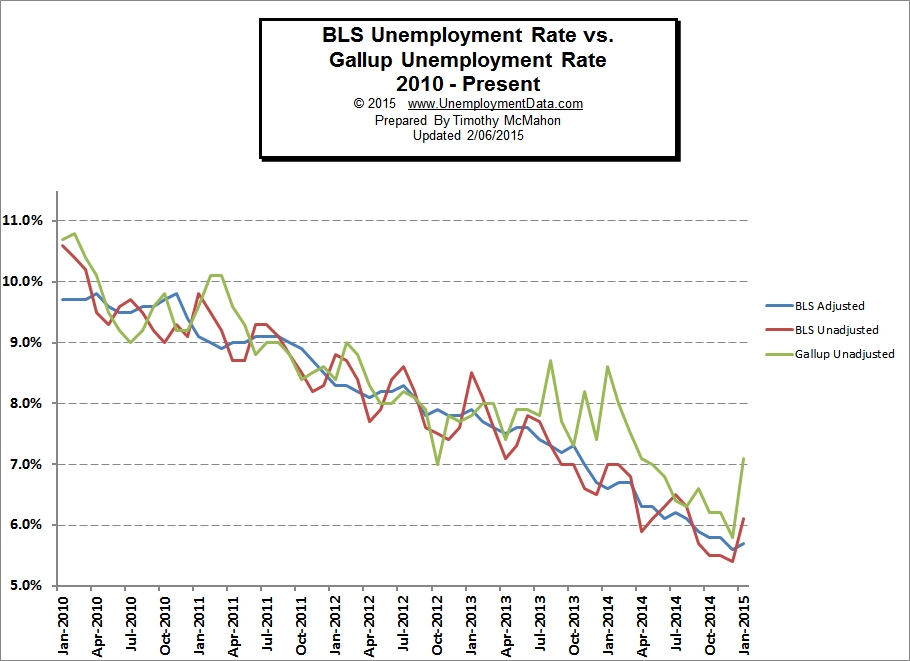 See Also: