Location was an integral element in finding and securing jobs. Whether a need to travel for an interview or relocate for a new position, one's geography mattered. However, given today's technological innovation and tools, a workforce can be managed remotely, and initial interviews may be conducted across state lines or oceans.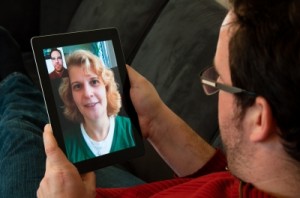 A proactive candidate searches for local, national and (even) international opportunity; a number of owners are willing to (in the least) conduct video interviews searching for potential in-house or remote workers. It's only a matter of time before an experienced and valuable candidate secures a video interview; here's how to do it successfully.
Dress for Success
Distance and video technology does not dismiss the formality of the business-related event. Dress as you would for an in-person interview, men wearing a tie and women in a dress or pants suit. In some cases, an interviewer may propose an informal interaction, but allow them to decide such logistics.
Use Notes
While a video interview provides a candidate with all the benefits of an in-person interview, using off-screen cues is an added advantage. Use notes as points of reference to remind you of names of executives and important dates; make a list of subjects to discuss and questions to ask that would otherwise be forgotten or lost in translation.
Execute Rehearsals
If you have little experience talking with others via video conference, rehearse a number of times, getting familiar with the sensation of being on camera and learning how to optimize the audio/visual components of the application and your computer. Practice improves upon execution; ask a friend or family member to help.
Prepare the Background
Just as clothes need to express formality, so does the background within view. You don't want a messy closet or unmade bed in the background. It's okay to be at home, yet arrange a formal setting for the interview. If you're curious about the execution of others, use a job site like Wrangle Human Resources, connecting with other users who have gone through the experience.
Allocate Time
No matter how many times one rehearses or how confident they feel in their skills, the process of being interviewed is enough to invite anxiety. Ensure the allotted period is engineered to avoid distraction, interruption, and invitation of exacerbated anxiety. That means unplugging or silencing phones, closing doors, posting do-not-ring signs on front doors and so on.
Follow Up
Little things make big impressions. Follow-up with a handwritten thank you card. Let the recipient know you appreciate the opportunity of the video interview as well as their afforded time. In an event of deciding upon you and candidates of equal stature, the thank you gesture may be a distinguishing and deciding factor.
Record the Session
Beforehand, ask the interviewer if it would be okay to tape the video interview for your future reference. You can improve upon your next interview by dissecting those of the past, improving upon small quirks and gestures for later events. Mind your speech patterns and poor habits, such as saying "um" or "like," varying vocabulary and omitting useless 'fillers.'
You Might Also Like:
Albert Stayton is a job center manager. He loves helping people use modern ways to successfully find employment.
Image courtesy of franky242/ FreeDigitalPhotos.net".