Need a job? Have you considered using Facebook to find work?
Social networking sites today are not just for sharing informal information.  Facebook, can also be a powerful tool that can lead you to a job.  Because millions of people use Facebook, take advantage of it and put your job search efforts on a success track. With a good handle on how to use Facebook for your job search, you can gain a competitive edge in your job hunt.
Leverage your Facebook Friends for Job Searches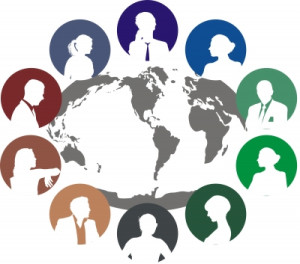 If you let your Facebook friends know that you need a job, they can refer you to their employers or friends that are in a position to hire you.  Or, they can point you to valuable resources.  Further, your friends can leverage their Facebook network – friends of friends – and help you land a job. The old saying about 6 degrees of separation applies here. According to Wikipedia, Six degrees of separation is the idea that everyone is six or fewer introductions away from any other person in the world, so that a chain of "a friend of a friend" can connect any two people in six steps or less.
Why Facebook for your Job Search?
A job ad in a newspaper or website attracts many candidates for a single position perhaps even hundreds (or thousands).  Thus competition is stiff. But if you use a social networking platform like Facebook, you might get a personal introduction to the hiring person thus helping you stand out from the competition. What's more, some employers might not advertise the job at all and hire only on a referral basis.
Steps to Find a Job through Facebook
Here are some tips on how to use Facebook for your job search:
 Upload your photo.  Make sure it presents you in a professional light.
 Write notes about your need for a job.  Highlight your key skill and experience and the position you are looking for.  Tell in a powerful, yet concise way what you can do for the employer.
Post your info that's public on Facebook with care.  For instance, if you have a grouse against a former employer, don't vent it on this social networking site, or any other site, in public. The public info on Facebook should turn the spotlight, for example, on your talent, how you can be an asset to the company, your industry knowledge and the latest news pertaining to your field.  So keep your grumbles, if any, private.
Create a strong resume / profile and post it on your site or on LinkedIn.  Then, give a link from Facebook to your resume.
Update your status on the progress of your job search.  Why?  Your Facebook network will get the latest news of your efforts.  More importantly, the status refreshes your friends' minds that you are still looking for work and they would point you to useful resources.
 Join Groups.  Like in LinkedIn, there are groups in Facebook.  Join those you feel would help you in your job search.
 Send an invitation to those you think can help you in your job search to become friends.  More, targeted friends are essential for success in your job hunt through Facebook.
As a last resort, consider Advertising on Facebook.  Here's the link to post your ad: http://facebook.com/advertising.  You can decide how much you are willing to spend for each click of your ad.  The price starts at $1.
See Also:
10 Awesome Jobs You Can Do From Home
The Difference a Degree Makes in Unemployment Levels
Choosing a Professional Resume Writing Service
Was Jack Welch Right on Twitter? Are Unemployment Numbers "Unbelievable"?
The Fastest Growing Careers of 2012
Highly Skilled Worker Shortage in a Recession?
Image courtesy of Vlado / FreeDigitalPhotos.net