The U.S. Bureau of Labor Statistics (BLS) has released its list of the 20 fastest growing occupations. As you would expect several are in the health services field, after all, those aging baby boomers are going to need health care. Yesterday we looked at the New Job Creation estimates in terms of pure numbers. In other words, which jobs would have the most new positions. Today we are going to look at which jobs are growing the fastest in terms of percentages.
As you would expect some positions are on both lists, like home health aides 69% growth and 706,300 new postions over the decade and personal care aides  with 70% growth rate and 607,000 estimated new positions.  Unfortunately, although both jobs are growing rapidly and will need hundreds of thousands of new people to fill all the positions, the average annual salary for both positions is only about $20,000 per year.
One high paying profession with a high growth rate is biomedical engineers with a 62% growth rate over the decade averaging $81,540 per year in 2010. The fourth, fifth and ninth fastest growing professions are in the building industry and all three are entry level positions as carpenter, brickmason and plumber – Helpers. These positions all pay in high $20,000's and can lead to positions like the 19th fastest growing position of brickmason and blockmason which is estimated to grow by 41% over the decade and in 2010 paid an average of $46,930 per year. Other construction trades that made the list was reinforcing iron and rebar worker with a 49% growth rate over the decade and a 2010 average salary of $38,430 and glazier (glass installer) with a 42% growth rate and a $36,640 per year average salary.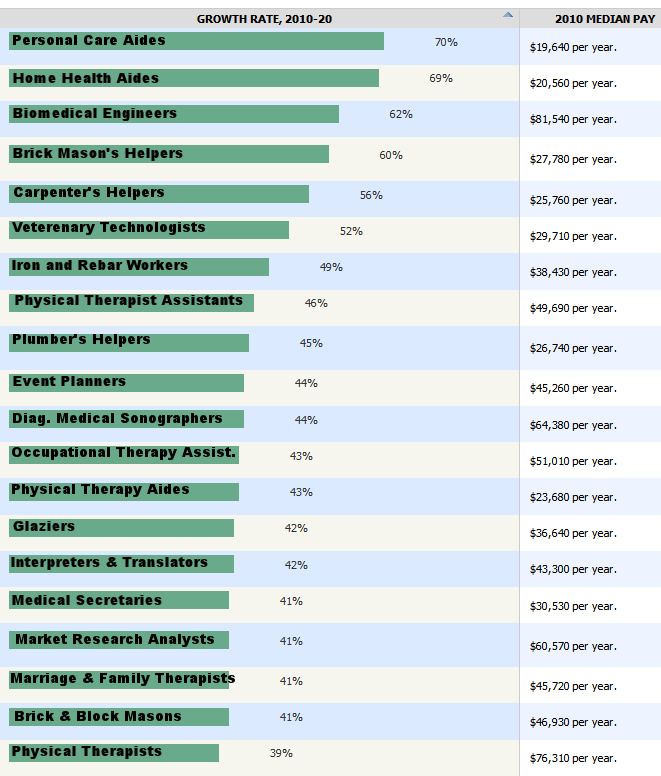 Medical and related positions that are slated to grow  are physical therapy assistants (46% growth and $49,690/yr.), physical therapists (39% and $76,310/yr.), physical therapy aides (43% and $23,680/yr.), diagnostic medical sonographers (44% and $64,380/yr.), occupational therapy assistants (43% and $51,010/yr.), medical secretaries (41% and $30,530/yr.), marriage and family therapists (41% and $30,530/yr.) and even veterinary technologist positions are expected to grow 52% over the decade and average pay in 2010 was $29,710.
Other fast growing positions are expected to be interpreters and translators with 42% growth expected and an average salary in 2010 of $43,300. Also meeting, convention and event planners are expected to grow by 44% and earned $45,260 per year in 2010. So if you are looking for a higher paying job it may pay to look at fastest growing jobs rather than jobs with the most potential vacancies.
One job that is so new the Bureau of Labor Statistics isn't even tracking it yet is that of a Social Media Manager. This position is rapidly growing as companies jump on the Social Media bandwagon.  If you enjoy using social media like Facebook and Twitter your skills are in demand. You can help companies with their Facebook and Twitter by monitoring online communications and making companies more "personal".  Find out more about how you can become a Social Media Manager.
See also: 10 Awesome Jobs You Can Do From Home