With the ever-evolving advances in technology, people upgrade to newer computer models as soon as they hit the market. However, even with all of the bells and whistles a new computer offers, most users only need a basic operating system for their daily computer use. Many individuals who require only the basics for their personal and professional needs opt to have their tried and true computers repaired, instead of investing in a new one. This, combined with users donating old or broken computers once they have purchased a new one, makes the computer repair industry a profitable one. Below is a closer look at the computer repair industry and the perks of becoming a computer technician.
Training And Education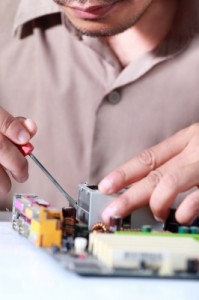 Even if repairing computers is something that comes naturally to you, you will find more employment opportunities after getting a formal education. There are many different types of training and education programs available, but the best are the ones that give you CompTIA A+ Certification, Microsoft Certified Technology Specialist Certification (MCTS), and Microsoft Certified IT Professional Certification (MCITP). Look for local vocational schools and colleges that offer these certifications, some of which can be obtained as quickly as 36 weeks.
Once you get your initial certification it is important to maintain your skills by attending refresher courses and ongoing training that covers new advances in technology that could affect your job as a computer technician. Sometimes your employer will provide or send you to ongoing training, though occasionally you will have to seek it out independently.
Career Opportunities
Once you have obtained your training and certification, you can apply for positions with local computer repair stores. As a technician, you may find that there are certain areas you excel in more than others. For example, you may have a brand or a specific generation of computers and electronic devices that you work particularly well with. You may work for a business that primarily repairs computers and returns them to their owners, or for a business repairing and refurbishing old and broken computers for resale. According to the U.S. Bureau of Labor Statistics, the average computer technician makes around $56,000 annually.
Thinking Outside The Box
If you have an entrepreneurial spirit you may want to consider offering your services independently, as opposed to working for someone else. You could do this by posting ads for your services online, and doing computer repairs out of your home or office. Many large cities, including Chicago, do not allow residents to throw electronics directly into their trash receptacles — even if they are broken. If your city has similar statutes, this could provide you with an opportunity: you could offer to recycle or pick up old and broken electronics, and then fix and resell them. You can even consider partnering with a local artist who likes to use broken electronics for upcycled art projects.
A career as a computer technician can be extremely rewarding. You can fix a customer's invaluable computer, and you can repair broken computers to make them more affordable for those with limited incomes.
You Might also Like:
About the Author:
Donald Rutherford writes on a variety of tech related topics such as computer repair, the tech business, start-up tech companies, computer science, software, gadgets, mobile phones, the kensington ipad air and other areas.
Image courtesy of Naypong/ FreeDigitalPhotos.net.