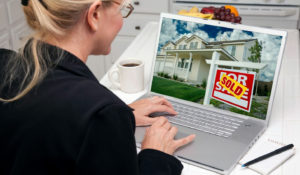 Being a real estate agent can be a really great career for the right person. According to the U.S. Bureau of Labor Statistics (BLS) the median salary for a Real Estate agent is $45,610 per year. Real estate brokers and sales agents help clients buy, sell, and rent properties. Although brokers and agents do similar work, brokers are licensed to manage their own real estate businesses. Sales agents must work with a real estate broker. Generally, you must be an agent for a while before becoming a broker.
According to the BLS, "Brokers and agents can represent either the buyer or the seller in a transaction. Buyers' brokers and agents meet with clients to understand what they are looking for in a property and how much they can afford. Sellers' brokers and agents meet with clients to help them decide how much to ask for and to convince them that the agent or broker can find them a qualified buyer.
Real estate brokers and sales agents must be knowledgeable about the real estate market in their area. To match properties to clients' needs, they should be familiar with local communities, including knowing the crime information and the proximity to schools and shopping. Brokers and agents also must stay current on financing options; government programs; types of available mortgages; and real estate, zoning, and fair housing laws."
The hours are unusual since you may be showing homes when other people are off of work. Since you work on commission you may work for long periods without getting paid and then receive a large paycheck all at once. Some years are better than others depending on the overall market in your area. You must be self-motivated and a "people person". But for the right individual this can be an excellent career choice.
How should you prepare for a job in real estate?
1. Get Licensed
In every state, real estate agents need to obtain a license. Requirements vary, but typically you must be eighteen, have completed a number of real estate courses and pass an exam. Unless two states have a reciprocal agreement, your license only allows you to sell in the state that issued it.
2. Observe and Work Alongside Experienced Agents
Due to the complex and costly nature of real estate transactions, it is a very good idea for new real estate agents to observe and work alongside experienced agents. If you're new and have no experience working in real estate, it is usually best to get a job or internship with an existing company. Some of the larger real estate firms provide formal classroom training while others offer on-the-job training. As an "agent" you are required by law to have your client's best interests at heart.
The professionals at Carter Real Estate say that "professionalism and care for clients is an important component of being a good real estate agent. Our sales, marketing and property management activities combine the traditional values of honesty and integrity with up to the minute sophisticated technology and processes." 
3. Have a Creative Eye
Work on developing your sense of what makes a house appealing. While it's true that there are many common and well-known tricks, such as creating the impression of more open space and utilizing the scent of freshly baked cookies to make potential buyers feel more at home, real estate agents also have to get creative when staging different types of homes in order to get them to sell.
4. Gain Some Knowledge
Before you start studying for the tests in order to get a license, make sure this career is a good fit for your personality and abilities. You get paid by commission, which means if you don't make any sales you don't make any income, so it's often a good idea to have some money saved back when you start. Also, try and gain as much specific knowledge about your duties and role as you can. For example, did you know there are important differences and additional information to know when selling a home that is part of a homeowners association? You will learn as you go and with experience, of course, but it's best to go in with as much knowledge as you can.
5. Go Digital
Familiarize yourself with sites such as Realtor and Zillow, which are some of the biggest real estate listing sites in the country. Create accounts on these sites and learn what makes a good listing on them. In the 21st century, real estate agents are using things like social media as part of their marketing strategy as well. After all, not everyone looking for a house in your area will physically be there and able to drive around looking at for sale signs.
The career choice of real estate agent is a good fit for people with a creative eye, an interest in housing and good sales skills. If you do your homework and are well-prepared, you stand to enjoy a long, successful career as a real estate agent.