College typically encompasses some of the best years in a young person's life: why the dorms, the shared bathrooms, the terrible food, the overpriced books, the exorbitant tuition, the parties, the hangovers. Ah, what a time. Who doesn't remember the joys of being a ninth year senior? But, this is not for everyone. Are you thinking about going to college but feel like you don't have the time? Or maybe you're trying to earn a specialized degree that isn't offered in your area? Or you already have a job and want to earn a better paying position with an advanced degree? Today, the advancement of online technology makes going to college as simple as waking up and turning on your computer. Here are some of the benefits:
1. Sleep Until 3pm and Never Miss Class (and wear pajamas to school when you do)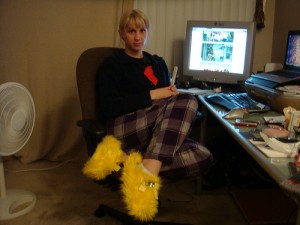 Is waking up a problem for you? Do you hate mornings with a passion? Maybe you're a club promoter at night or in a band? Well, forget ever having to wake up at dawn to snooze through music theory 101 ever again!
Taking classes online is great for people with alternative schedules that are not able to go to class during normal daytime hours. Most classes are easily downloaded or streamed so you can watch them whenever it is convenient for you and even wear pajamas in school!
2. Work and Still Go to School
It sounds horrible, but for some people taking the next four to seven years off for school is not an option. Online schooling is great especially for working professionals who don't want to leave their current position. Rather than spend all your available time going to night school or eight hours of class on the weekend, online classes allow you to complete your degree at your own pace in your own time.
3. Specialized Degrees
Say you want to earn a degree that's only offered at several schools around the country, none of which are in your immediate vicinity. Instead of packing up your entire life and moving it to Alabama or wherever else this school is located, now you can just study online. Another benefit: online programs usually get right to the actual course and material you're paying for, allowing you study what you really want to learn and earn your degree faster.
4. Save Money
Who couldn't use some extra money these days? Yes, rather than spend the next forty years paying off student loans, online schools allow you to save money on tuition while still pursuing your degree. Typically, they are lower in price than the traditional ones. Plus, you can save money on transportation, books, and supplies. Usually, students are able to download materials – notes, assignments, lectures, etc. – right onto their computer.
5. No Classrooms
Online school takes care of all those little annoyances of actually going to a classroom. Now, you don't have to find parking, mess up your work schedule, be aggravated by the guy talking in the third row, or even leave your own house. While class isn't at a physical place, it is still advised to keep up with the lectures. The great part is you can typically do this whenever it is convenient for you. Classes and other materials are electronically sent to students who then complete assignments and even take quizzes in their own time.
Angela George writes for higher education blogs. To read more about earning a degree in communications, go to
BestCommunicationsDegrees.com
.   Photo credit: Anyway, I got new slippers! by
Debs (ò‿ó)♪, on Flickr