In the presidential debates in Colorado on Wednesday Mitt Romney said, that although he likes Big Bird (and debate moderator Jim Lehrer),  if elected he plans on cutting the $400 million subsidy that goes to PBS. PBS of course is the corporate home of Sesame Street and loveable "Big Bird". Since that statement the Democrats and the blogosphere has errupted with crys against the big mean man who wants to kill big bird.
Big Bird Won't Lose Job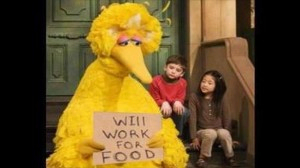 But according to Sherrie Westin, executive vice president for Sesame Workshop, Sesame Street actually receives very little funding from PBS anyway.
About 12% of PBS' revenue comes from the Corporation for Public Broadcasting. For 2015 Congress has budgeted $445 million for the Corporation for Public Broadcasting. The remainder of the funding, as they are so fond of saying, "Comes from Viewers like you…"
PBS CEO Paula Kerger  said PBS too will be just fine, as it too isn't funded directly by the government. "In fact, the money that comes from the government into the Corporation for Public Broadcasting goes to our member stations."
One blogger put it this way… "I think the fact that taking government funding away from PBS will not hurt it is kind of Romney's point. Isn't that basically the definition of unnecessary spending? "
Big Bird is a "Cash Cow"
The show is very profitable in its own right. Big Bird probably has more licensing deals than Michael Jordan… he's a virtual "cash cow".   So don't worry Big Bird will still have a job if Romney is elected.
On the day after the debate Big Bird posted on his Twitter page, "Big Bird: My bed time is usually 7:45, but I was really tired yesterday and fell asleep at 7! Did I miss anything last night?"
Did you even know that Big Bird had a Twitter page?
 See Also:
Was Jack Welch Right on Twitter? Are Unemployment Numbers "Unbelievable"?
10 Awesome Jobs You Can Do From Home
Networking to Find a Better Job
The Difference a Degree Makes in Unemployment Levels
What is the "Real" Unemployment Rate?