Bread. Clothing. Gasoline. You need all of these things, but they all depend on the trucking industry. With uncertain gasoline prices and the country still trying to claw its way out of a recession, the trucking industry faces serious challenges on all sides. The shipping, airline, and railroad industries all need the same business that the trucking industry now captures. Will it be able to innovate while fighting off fierce competition from outside industries? Is the trucking industry going under?
Competition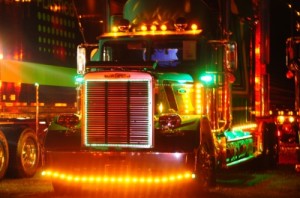 The trucking industry faces many challenges. One of them is competition from other industries. Obviously, rigs aren't the only way to transport goods and services across the country. Air freight, trains, and shipping all pose a threat to the trucking industry. For example, in the 1980's the freight railroad business was shrinking quickly. However, after 1990, the industry saw steady growth that didn't stop until the late 2000s.
New engines and enhancements to existing technologies are pushing the shipping industry forward. For example, "G" type engines promise an increase in fuel efficiency between 4-7 percent over existing engines. Hybrid engines are emerging that make use of gasoline and diesel as well as wind as an auxiliary source of power. If the shipping industry can capitalize on emerging technologies, shippers may find it more economical to send cargo by water than by land.
While air freight traffic declined about one percent from 2010 to 2011, the industry has seen just under 3 percent growth since 2001. This long-term trend may become problematic if it continues – even at this slow, but steady, pace.
Rising Costs
Shipping costs are always a concern for the trucking industry. For 2013, the Shippers Condition Index predicts a steady decline in shipping conditions. For starters, the industry is facing new trucking regulations and rising freight volumes. This translates into higher rates for shippers. Consequently, it may mean a slowdown in the trucking industry as shippers search for cheaper competition in other industries.
According to Larry Gross, senior consultant for Freight Transportation Associates (FTA), "Changes in trucking regulations are looming although court challenges may yet throw a monkey wrench into the proceedings, delaying implementation and the resulting tightening of capacity. But putting it all together, FTR feels the most likely outcome will be a more difficult scenario for shippers in 2013."
A Silver Lining
FTR's Trucking Conditions Index for November has actually climbed by about 2 points. This is, of course, only good news in the short-term. However, it's still good news. If the economy can recover enough for the trucking industry to see the forecast materialize, it will help secure the industry's footing in 2013.
Last year's NAFTA trade is also up 7.9 percent according to the Bureau of Transportation Statistics. This brings an additional $85.3 billion flowing into the industry.
Finally, while the U.S. unemployment rate hovers at 7.8 percent, according to the Labor Department, the trucking industry actually added 4,200 jobs in December of 2012 alone.
Forecast
For long-term growth and stability, what's needed is more investment in the industry, fewer regulations that affect the industry's cost structure, and and environment where the trucking industry has enough competition to remain innovative. The industry also needs to adapt to regulations that are unlikely to change – such as "green" regulations that continually tighten the requirements for emissions. New engine designs, more efficient trucks, higher capacity trucks, and perhaps some diversity and consolidation with industries outside of its core competence will necessary for the industry to survive going forward.
This piece was composed by Travis Leary, a freelancer who often contributes articles on automobiles, the auto industry and the truck driving industry as well; though the industry may be facing some difficulties, those who are so inclined should still investigate existing truck driving jobs to further their professional careers.
Image courtesy of Bill Longshaw / FreeDigitalPhotos.net
Trucking Industry Related Resources: