Online teaching jobs have become a viable work-from-home alternative for many people. Let's look at the best web resources for teaching jobs, some featured sites and why every prospective teacher should be using it to find a job.
Teaching College Online – Requirements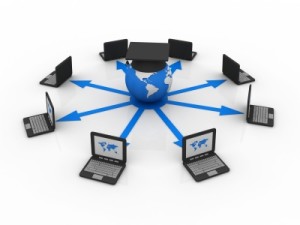 The requirements for obtaining an online teaching job in an e-instruction institution are the same as those required by your counterparts in traditional schools. If you wish to teach at the high school level as an online tutor you will be required to have a bachelor's degree along with a teaching license. For an online job at the community college level the minimum requirement is a master's degree while at the university level the prospective tutor may be required to have a doctorate.
The Best Web Resources for Teaching Jobs
Before you start the online job searching process, ensure that your online e-portfolio is well written and displays your qualifications. Upload to the various sites and update it to keep it fresh.
Simply Hired – www.simplyhired.com
The founders of Simply Hired saw the need for teachers who desired to teach online to be connected to prospective employers and went about creating a medium that would facilitate that connection. The result was the Simply Hired website, which is highly recommended as a first-stop option for those seeking jobs online. The site owners have remained true to the vision and the focus remains on the job seeker. They have listed as many as five million jobs from sources such as job bulletin boards, newspapers and various companies. These are all conveniently indexed, making it easy for searchers to access them.
Job searchers can easily filter job results and narrow it down to the criteria that are most suitable for them. These include educational level, job type and experience. The one disadvantage of the website is that it currently caters to the US market, but should be expanding to include the Canadian market soon.
Indeed.com – http://www.indeed.com/
Indeed.com is another highly recommended website for finding Online College Teaching jobs. They also built their business on the vision of putting the job seeker first and based on the satisfaction expressed by those who have benefited from the service, they have remained true to that vision. The site comes with advanced search options that allow the user to filter through the jobs listed to get to the job openings that are specifically appealing to them.
CareerBuilder – http://www.careerbuilder.com/
CareerBuilder presents users with unique job opportunities because they do not pull and list jobs from sites such as Indeed.com and Simply Hired. Like Simply Hired, they list jobs from sources such as job boards, companies and newspapers. The site is owned and operated by three media companies through a partnership arrangement. In all fairness, although the website does assist people in finding online teaching jobs, there have been complaints of users being bombarded by unwanted mails from unrelated sources, which may indicate that their information is passed on to third parties. Added benefits of the site include their quick search option and their help in finding apartments.
The search for online jobs can take some time so apply to more than one website. It does pay to visit as many sites as possible and increase your options.
See Also:
Recommendations from Amazon:
About the Author:
Justin Epley has a longstanding career in teacher recruitment. He enjoys sharing his insights and findings on education related blogs. Visit the link for the information you need to build a career in education.
Image courtesy of Sheelamohan / FreeDigitalPhotos.net