Your first engineering job is always special. After completing four years of studies graduates are eager to get their dream job. This article will provide tips on how to get an engineering job. 
Engineering graduates always want to have their first job in a well known organization. Many engineering colleges offer placement assistance to Seniors. But students need to do their part to get the job of their dreams. Whether you are an electronic engineer or a computer engineer, following certain recommended rules can help land that desirable engineering job in a well-known company.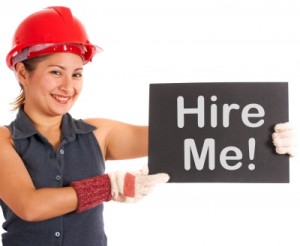 Engineers, whether in the civil, mechanical or computer domain require a specialized resume. The resume or CV should be customized according to the job requirements listed in the help wanted ad. Engineers looking to join the job market cannot prepare a generic resume for every position. Applying for Civil Engineer Jobs will require a different resume from a computer engineer job. Many hiring managers complain that they receive generic resumes. Only a few candidates take the pains to create a customized resume. Engineering students applying for different job classifications should keep in mind that for 5 different employers, they should have 5 different resumes.
Resume Content is King
The content of your resume is very important.  The content should have correct figures, degrees obtained and flawless English. Further, the skills mentioned should match the job profile demand. Each company has a specific set of requirements and the person doing the initial screening of the resumes will most likely not be an engineer. So they will be scanning for key phrases that are in the job requirement. So if you include those phrases in your resume you are more likely to make the cut and get called in for an interview. Include relevant experience even if it is for a non-paid position.
Along with the content, presentation is equally important.  Neat presentation is very important. Avoid using fancy fonts and too many colors. In the competitive job market, it is important that your resume makes a good first impression. A professional looking resume goes a long way in standing out from the others on an employer's desk.
How to Get an Engineering Job: Your First Resume
Creating a resume for your first job is challenging. There is no experience to show to the potential employers. Previous records of accomplishment in college and academic years plus internships are vital in getting the attention of employers. Two students who received the same degree and the same grades in the same engineering program will be differentiated on the basis of extracurricular activities and skills possessed other than studies. Adding these in the resume is essential.
Your resume should start with a career objective written at the top. Give some thought to the career objective and tailor it to the exact position you are seeking.
Many "experts" recommend that the graduate seeking his first engineering job keep the resume to one page. But if your first page can stimulate enough interest the hiring person may read your second page. Of course be sure your first page includes good quality concise information and is not rambling or just filling space. You need to distill the information down to the fewest words possible, don't give the impression that you are wasting his time with useless fluff. If you do that, then your second page can include key information that will make you stand out from the crowd. What makes you different? Have you Traveled? Extra curricular activities? Internships? Skills? Job related interests? Volunteer activities? Use these to present yourself in the most positive light. Your resume should be just like a girl's skirt, "short enough to be interesting and long enough to cover the subject."
Engineering Job Interviews
Once you have landed the interview, make sure to do dress appropriately. Engineering graduates fresh out of college are known for wanting to dress casually but it is very important to dress up for interviews. Usually, lighter shades of shirts and darker tone trousers are apt for the interview. A suit and tie is even better.
Legendary marketing expert Jay Conrad Levinson takes on the task of how to marketing yourself to get a job in Guerrilla Marketing for Job Hunters 3.0: How to Stand Out from the Crowd and Tap Into the Hidden Job Market using Social Media and 999 other Tactics Today.
See Also:
From Amazon:
Author Bio:
This article was written by Jara on behalf of  Naukri.com, India's No. 1 Job Site, with an experience of over 4 years in writing content for articles and blogs. She writes on various topics related to the job industry such as jobs for freshers and Engineer Jobs. 
Image courtesy of Stuart Miles / FreeDigitalPhotos.net