A Career in International Business Management
can be a great way to learn more about different cultures, speak new languages or meet a variety of different people. In addition to great leadership and communication skills, international managers will need background knowledge in business and plenty of cultural sensitivity. In order to become an international manager, the right level of education is required. A bachelor's degree in international management or even a Master of Business Administration might be a great way to prepare. Read on for more information on what it takes to become an international manager.
International Business Management Requires-
A Willingness to Relocate and Travel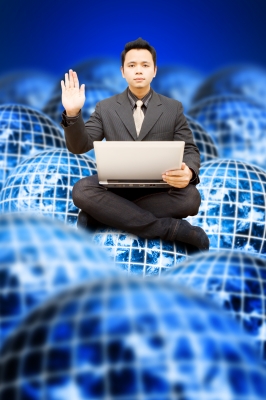 Perhaps one of the most exciting characteristics of a career in international business management is the willingness to travel internationally or to move abroad. While many business managers start out with domestic careers, they will often need to travel to meet with suppliers, partners or potential customers around the world. If new markets emerge in places like Beijing, Hong Kong or Paris, you might be required to relocate. If you aren't willing to relocate for your career, then a job as an international manager will not be for you. By volunteering for overseas assignments whenever possible you will gain experience and let upper management know that you are available for overseas assignments and perhaps be considered for an international business management position when one comes available.
Cultural Sensitivity
International business managers, whether they are working at home or abroad, will likely need to deal with individuals from a range of different nationalities, culture and ethnicities. More than one corporate executive has ruined a deal for his or her company by making a cultural gaffe, so the best international managers will have a high level of cultural sensitivity. Diplomacy, patience and the willingness to work with others is a great start in this area.
Experience In Foreign Languages and Cultures
Although no international manager can speak all the languages in the world, many hiring managers for large multinational corporations will specifically seek out potential employees who can speak a second language fluently. If you don't yet speak a second language, consider taking courses to hone your language skills in something valuable like Spanish, Mandarin or Japanese. Extensive travel to foreign countries can also help to increase your cultural awareness. Language barriers can often create difficult situations but sometimes they are just humorous. Like the person new to the Japanese language who walked into a Pharmacy looking for mosquito bite creame and inadvertantly asked for elephant bite creame. Or the man visiting a Uruguayan restaurant and wanting mushrooms on his salad and instead asking for horse on his salad. When the waiter told him they didn't serve horse he realized his mistake.
Excellent Communication Skills
All managers need to have excellent communication skills, but the trait becomes even more important when you are potentially dealing with individuals who don't speak the same language as you do. Physical cues and facial expressions are an important part of communicating with others. Work to perfect your written and oral communication skills if you are interested in pursuing a career in International Business Management.
Creativity and Flexibility
Business managers always need to be able to think on their feet and make rapid changes to fit the individual circumstances, and that is no different for international managers. Those in this career also need to be flexible when it comes to scheduling and potential foreign placements.
Working in international management can be an incredibly interesting, exciting and lucrative career. In order to be considered as a candidate in this field, you will need to have the right education and training. An advanced degree might be what it takes to land a career as an international manager.
See Also:
8 Steps to Cut Education Costs
How Critical Thought Increases Innovation 
Are You Ready to Start Your Own Business? 
Starting a Business Harder in U.S. Now
Recommended from Amazon.com:  In Liar's Poker author Michael Lewis describes how he was able to land an international position right out of college in the highly competitive Financial Industry of the 1980's.
About the Author:
Denny Gray writes for several educational journals. Interested in international management? To learn more about earning an MBA click here.
Image courtesy of Watcharakun / FreeDigitalPhotos.net