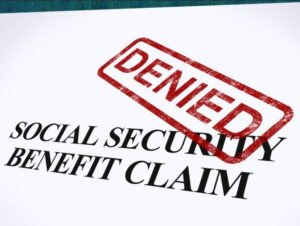 Do you need to apply for social security disability or retirement benefits? In some cases, these claims are denied. To avoid a social security claim denial, be sure to follow the application instructions exactly. For Disability claims go to https://www.ssa.gov/disabilityssi/
You can log in or create a "my Social Security" account to check the Status of Your Application online.
Your application status shows:
Your Re-entry number for pending online benefit application or online appeal that has not been submitted;
The date they received your application or appeal;
Scheduled Hearing date and time;
Current claim or appeal location including the address of the office processing your application; and
If a decision has been made.
You cannot check the status of your application online if you do not have a my Social Security account. 
According to Motley Fool, "one-third of disability applications are denied" and they provide 8 Reasons Your Application Might be Denied. The top 2 reasons are:
1. You don't have enough "working credits" to qualify.
2. You make too much money.
To properly file a claim or appeal a decision, you may need to:

Provide Medical Documents
If you have a medical condition that impacts your ability to find a new job, get documentation from a physician. Your doctor or a disability determination doctor may be able to provide you with this information. Be sure that the documentation includes all of the details needed for the Social Security Administration to evaluate your case.
Obtain Statements from Past Employers
If the Social Security Administration denied your claim to collect benefits, contact your employer and ask if their human resources department can provide you with a statement. They may be able to write a letter on your behalf that explains your situation and that you will not be able to return to the job that you once held. If your employer has gone out of business, you may be able to get information about that from the state board of unemployment.
File Appeals On-time
If your first claim to collect social security after being unemployed is denied, consider filing an appeal. Keep all of the deadlines for appeals in mind.  If you miss a deadline for an appeal, you may not be able to make another claim for a certain amount of time. Be sure all of the information on your appeal form is correct, including your name, date of birth and social security number.
Contact an Attorney
An attorney may be able to assist you with a social security claim filing or an appeal. There are attorneys that only work on these types of cases. The attorneys at Clearfield & Kofsky, who specialize in such cases say, "The Social Security Disability system exists to help when you're in need. Convincing the government you need benefits can be confusing and frustrating to do alone."
A professional may be able to assist you with the paperwork and other documents that are required in the appeal process. An attorney can also tell you what your chances are of success in your appeal for a claim denial.
A social security claim denial is not uncommon. When you are unemployed, you may feel as if you have few options. Take the time to ensure that all of your paperwork is in order and that any submissions you make either online or in-person are accurate, on-time and complete. If you do find your claim is denied, there are steps to take to appeal the denial for compensation.