What is a "Money Job"?
The fallout from the economic crash of 2008 continues. Many Americans are continuing to struggle economically. If you are one of the millions of Americans considering a new line of work, you've no doubt been examining different career paths to see if they're right for you. This post will offer you some food for thought on changing careers and choosing a money job…
that is, a job as a stockbroker, commodities broker, financial planner, investment advisor, etc.

Editor's Note:
According to the U.S. Bureau of Labor Statistics Occupational Outlook Handbook the demand for Stock Brokers, aka. Securities, Commodities, and Financial Services Sales Agents will increase about 15% from 2010 until 2020 or about average and the average salary is about $70,190 per year and they often receive significant bonuses. A bachelors degree is required. Financial planners earn slightly less at $64,750/yr. but demand is projected to grow significantly higher than average at 32% from 2010-2020.
Do You Like Numbers? Stock Brokers do…
Money jobs like stock brokers require a basic facility with mathematics. You'll be seeing numbers all day long, and you'll be expected to become highly skilled at performing certain kinds of computations. Even though it's highly unlikely that you'd ever have to use highly advanced math in these jobs, it would still be essential for you to be comfortable with numbers.
Are You Self-Directed?
In some ways, the money industry is characterized by minimal hand-holding, especially in comparison to traditional career fields. For example, if you become a chartered financial analyst (CFA), you are expected to study for a 3-part course that will take, at a minimum, 18 months to complete. People who work in the money industry are highly motivated, and tend to be self-starters. If this sounds like you, you might be suited for the industry.
Do You Handle Risk and Pressure Well?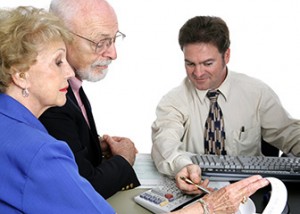 Working in the money industry can involve a lot of pressure. You're handling people's money, which will make both your clients and your bosses nervous if you're not doing your job properly. People in the money industry can live with that kind of pressure and still not become trigger-shy about making financial decisions. Ask yourself how well you do in pressure situations and you'll know more about whether the money industry is right for you.
How Quickly Do You Learn?
Switching careers and entering the money industry means that you have to learn a new set of skills. To be sure, there are plenty of resources to help, including self-study books and guided coursework. However, not everyone is cut out for learning a new skill set both quickly and well. If you feel that you're a quick learner with a good ability to assimilate new knowledge, you can definitely put those traits to work in entering the money industry.
Are You Competitive?
Jobs in the money industry are hard to come by. The competition to work for banks, for example, is intense. If you want to thrive and survive in this field, you need to be competitive. If you're switching careers, you're trying to get in on the bottom rung of the industry along with many other job-seekers. You need to be able to do what it takes to distinguish yourself from your competition. If you pride yourself on out-working others, and on being motivated to be the best, then these characteristics can help you switch careers and land in the money industry.
Can You Roll with the Punches?
Remember, there are all kinds of jobs in financial services. You could end up working for a bank with 50,000 employees, or you could be a solo financial planner. As part of the career-switching journey, you might have to adjust your expectations of where you will land up within the industry. If you have more of an entrepreneur's mentality, going solo might be right for you. On the other hand, if you have the credentials to be hired by a large company and enjoy that kind of structure, you should go corporate. You'll have to be flexible and cognizant of your strengths and weaknesses to enter the money industry.
See Also:
Choosing a Professional Resume Writing Service
Social Media Marketing Consultants Needed
Networking to Find a Better Job
What Managers Want When Hiring Public Relations Specialists
About the Author:
This article was written by Karl Stockton for the team at kendall.edu. For those interested in event management careers, contact Kendall to learn more about their Chicago event management program.