Healthcare is one of the hottest career fields available in the 21st century and despite the economic slowdown that has gripped the world for almost four years, employment remains strong in fields related to medicine. Despite strong employment figures in the healthcare industry, traditional standards for hiring and advancement remain in place. Nursing is the one field in healthcare with the highest employment figures as well as the highest demand for new employees. If you've got years of experience in hand as a nurse, a Master's degree in nursing is your ticket to advancement in your field.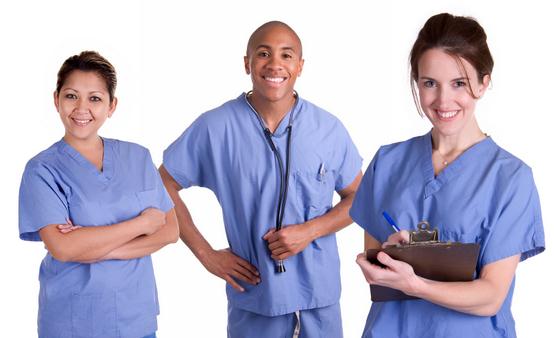 Nursing is a difficult and demanding career field, not just in terms of education. Nurses need at least an Associate's degree to gain entry-level employment, but a Bachelor's degree is seen as the best route to a better nursing career. Earning a Master's degree in nursing allows current nurses to combine their work experience with an advanced education to move into management and administrative positions in nursing.
What Options are Available for a Master's Degree in Nursing?
The Master of Science in Nursing is the most popular graduate degree available for nurses. The vast majority of schools offering a Master's degree in the field of nursing offer this degree with various specializations to suit the career aspirations of different students. Programs are available on a part-time basis, full-time basis, and even online. The following are examples of common MSN programs:
Standard MSN: The average MSN program takes 18 to 24 months of full-time study to complete and requires students to complete 36 to 67 credit hours as well as clinical hours. A Bachelor's degree is required for many potential entrants to these programs.
BS to MSN: A combined program offered at some schools that allows students to complete both a Bachelor's degree and an advanced Master of Science in Nursing program before entering the nursing field. This is often a favorite choice among lower level nurses with just an Associate's degree or certificate in nursing.
Accelerated BS to MSN: The details of these programs can vary from school to school, but the basics are similar to a regular BS to MSN program with an accelerated pace.
Online MSN: These programs can vary greatly from school to school. Online programs are never truly online as schools will partner with local hospitals and clinics to allow students to complete coursework online and pick up clinical hours in a local healthcare setting.
What Careers are Available?
There are a number of career fields available to nurses that are hard, if not impossible, to get without a Master's degree in hand. The four biggest nursing positions available require a certain number of years of experience in the field and a Master's degree as the minimum standard for employment. The following top nursing careers are available only to those with an advanced degree:
Nurse Practitioner
Certified Registered Nurse Anesthetist
Certified Nurse-Midwife
Clinical Nurse Specialists
Nurses represent the largest employment sector in the healthcare field, and the demand for nurses remains high. Entry-level nursing positions expose nurses to the potential for career burnout due to long hours, weird schedule such as overnight shifts, and stressful working conditions. A Master's degree is not only a route to higher positions, in some cases it offers a refreshing change in working conditions for some nurses. In the end, a Master's degree in nursing can lead to change and a new direction for your career.
Neil Brandenberger is an independent researcher in online education. He is also a freelance writer. He enjoys sharing his insights and findings on various online higher education publications. Learn more about obtaining Nursing degrees online.