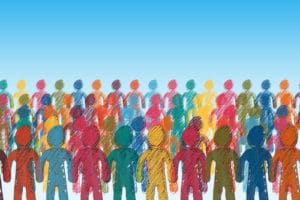 If you're like most people, helping others makes you feel good as well. Why not make it a career? Most careers work to make human lives a little bit easier, although some are more focused on this goal than most. If you have an inner humanitarian who needs satisfying, look into these three jobs.
Health Care Professional
The healthcare industry is growing in leaps and bounds and medical professionals of all stripes are in heavy demand. There is also a lot of variety in the different healthcare roles, so you'll be sure to find something that interests you, whether that's being a traditional doctor or a nurse practitioner. Medical professionals often do pro bono charitable work, whether at home or abroad. The nursing field has actually evolved a segment of itself dealing with vulnerable communities called nurse-managed care. At nurse-managed health care centers, nursing professionals provide a number of common procedures such as immunizations, physical exams and cardiovascular checks to people in need.  According to the U.S. Bureau of Labor Statistics, Occupational Outlook Handbook, "Employment of healthcare occupations is projected to grow 18 percent from 2016 to 2026, much faster than the average for all occupations, adding about 2.3 million new jobs. Healthcare occupations are projected to add more jobs than any of the other occupational groups. This projected growth is mainly due to an aging population, leading to greater demand for healthcare services. The median annual wage for healthcare practitioners and technical occupations (such as registered nurses, physicians and surgeons, and dental hygienists) was $63,420 in May 2016, which was higher than the median annual wage for all occupations in the economy of $37,040. 
Healthcare support occupations (such as
 home health aides, occupational therapy assistants, and medical transcriptionists) had a median annual wage of $27,910 in May 2016, lower than the median annual wage for all occupations in the economy."
Public Administrator
Public administrators manage and plan different elements and departments of a local municipality. Someone with a degree in public administration can go into a number of careers, including but not limited to law enforcement, public works and fiscal management. MPA degrees are fairly broad degrees that encompass many of the things a business degree does, only with a focus on the public, rather than the private, sector. The various public administration careers are great for humanitarians because you get to work towards building a better community and also get to see the fruits of your labor firsthand.
Social Worker
Being a social worker can actually be dangerous, particularly if you end up working with high risk clients in communities stricken with violence. But on the other hand there's nothing quite like the feeling you get when you help someone turn themselves around, remove them from a bad situation or even save their lives. To go into this field, you will need a degree in social work – often a master's. To become a clinical social worker, you also must be licensed by your state.
According to the BLS/ooh :
"Social workers help people solve and cope with problems in their everyday lives. One group of social workers—clinical social workers—also diagnose and treat mental, behavioral, and emotional issues. Social workers are employed in a variety of settings, including mental health clinics, schools, child welfare and human service agencies, hospitals, settlement houses, community development corporations, and private practices. They generally work full time and may need to work evenings, weekends, and holidays. The median annual wage for social workers was $46,890 in May 2016. Employment of social workers is projected to grow 12 percent from 2014 to 2024, faster than the average for all occupations. Employment growth will be driven by increased demand for healthcare and social services, but will vary by specialty."
If you have a strong humanitarian streak and want a career where what you do truly helps people, there are actually plenty of options. The three careers mentioned in this article are just the tip of the iceberg. Still, these are very solid, in demand careers that focus a whole lot on helping people. They'll definitely satisfy your inner humanitarian.
You might also like: