Brick Mason Salary
While being among the highest paid trades in the construction industry, brick masons' wages have been stagnant over recent years due to the slump in the housing industry.
Although their numbers constitute a rather small category within the group of trades making up the construction industry, brick masons do very well in comparison to their colleagues. According to the U.S. Bureau of Labor Statistics, as of May 2011 the mean or average income for a brick mason was $54,210 annually or about $27.04 per hour. This puts them only just below the first-line construction supervisors averaging $59,280 per year or $28.50 hourly. Compare this with their Construction Laborer colleagues earning $26,490 per year and you have a significant wage disparity. Brick masons also do very well in comparison to the technical trades. The mean incomes for electricians, plumbers and heating tradespeople during 2011 were $41,860, $44,330 and $38,470 respectively, or, on average, 23% less than for brick masons.
Construction is Picking Up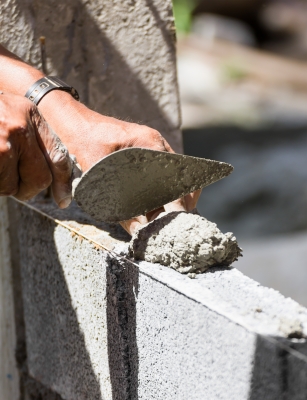 Considering the recent increase in activity for both residential and commercial construction, all of the building trades, and especially brick masons, have reason to celebrate. The Bureau of Labor Statistics is predicting a 40 percent increase in employment for the bricklaying trade during the ten-year period beginning 2010 through 2020. This compares with only a 14 percent increase for all occupations combined. Given this sudden growth in demand for additional bricklaying capacity, it seems inevitable that wages are bound to rise – or are they? During the single year from May 2010 to May 2011, the median annual income for Brick Masons actually dropped from $46,930 to $46,800; less than 1 percent but still a decrease. The median is that number at which half of the reported wages fall above and the other half is below.
Annual Wages for Brick Masons
Year — Median Income
2002 — $41,840
2003 — $41,550
2004 — $41,740
2005 — $41,860
2006 — $42,980
2007 — $44,070
2008 — $45,630
2009 — $46,740
2010 — $46,930
2011 — $46,800
It is clear from the data, that over the most recent ten-year period brick mason's incomes have remained fairly steady. During the ten-year period from 2002 to 2011, the median wage increased by only 11.8 percent, or an average of 1.18 percent per year – certainly less than the annual rate of inflation. The consumer price index rose 3.2 percent over that same year.
As mentioned above, the trade is expected to experience an employment growth of 40 percent in the next ten years. The major factors influencing this growth are:
• Population growth
• Replacement of older brick structures
• Aging work force
• Disaster reconstruction
As the population grows, there will be an increasing need for public buildings, and particularly for schools. During, and even before the beginning of the "Great Recession," outlays for publicly funded projects began to decline. This part of the infrastructure is in desperate need of repair and, more often, replacement. Replacement of aging schools will also be driven by the need for structures that will accommodate the rapidly changing digital learning model. Inasmuch as K-12 schools are mostly constructed of brick, it goes without saying that school building construction will be a main driver of demand for the bricklaying trade.
As the general population ages, so does the average age of its workforce. Inasmuch as brick masons receive their training through apprenticeship, the retirement of large numbers of journeymen will open those slots for younger members. This, in turn, will require additional recruitment of apprentices.
Regionally, beginning with Hurricane Katrina, the onslaught of weather-related disasters has been responsible for a growing backlog of reconstruction. And now, with the increasing frequency of devastating storms culminating with Hurricane Sandy, a pattern of destruction beginning in the Gulf Coast, moving up through the Atlantic Seaboard into the North Eastern states, is adding exponentially to the backlog. Thus, it appears certain that there will be increasing opportunity for the bricklaying trades in those affected areas.
So, as it turns out, when compared with most other construction trades, brick masons are doing quite well. As for the future, it seems safe to say that the number of workers practicing the craft will grow vigorously and that their incomes will continue to increase. Unfortunately, those incomes may not keep pace with inflation.
See Also:
 Recommended by Amazon:
About the Author:
This article was written by Jeremy Jefferson, a freelancer who often writes on real estate, construction, high end renovation and other closely related topics; to learn more about such issues, especially high end home development contact RiverStone Luxury Builder.
Image courtesy of Stoonn / FreeDigitalPhotos.net