Certified Dog Trainer-
If you love dogs and spending lots of time training them, you might consider a career as a dog trainer. Did you know that as a dog trainer, you'll need to have lots of patience and understanding with people, too? Dog trainers actually spend most of their time teaching people how to train and manage their own pets, so you'll have to be a people person, as well. With the proper training and knowledge, you can choose one of the many diverse careers in the dog training area, from dog show preparation to military dog training to puppy kindergarten.
What do certified dog trainers do?
Certified Dog trainers are professionals who have learned methods for correcting canine behavior. Not all abide by the same techniques, but the end game tends to be the same – they want to increase your dog's good habits while decreasing behavior that is less desirable. Some use treats to reinforce desired actions, others mark good behavior through clicks that are associated with praise or food, and others may even physically guide the dog into maintaining a desired position.
But it is not only dogs who receive training. More often than not, it is the dog's owner who receives an education. Skilled trainers gently point out room for improvement in how the owner interacts with his or her pet – noting areas where the owner may be reinforcing bad habits, for example, or supplying confusing commands – which sets the foundation for a lifetime of good canine behavior.
How do you become a dog trainer?
Technically, anyone can adopt the label of a dog trainer since you don't need any formal qualifications to do the job. However, most good trainers have undergone education in their field, whether in the form of self-directed study, mentorships, or formal dog training through institutes endorsed by professional councils in the industry. Having education under your belt makes it more likely that you'll land a position at a reputable training center for dogs, or a solid stream of clients if you plan to start your own business. Sites like How2Become offer information on the requirements of becoming a police dog trainer.
What type of training can you do?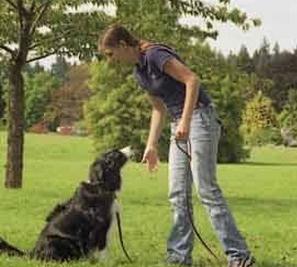 Not all dogs require the same training. Some family pets, for example, may only require strategies for channeling and correcting excessively energetic behavior; other dogs will accompany soldiers into combat or police offers in the streets; you can find others that work closely with those who are disabled, assisting them with everyday tasks and, in some cases, visual guidance; there are also animals that are trained for dog shows and other performances, like stunts in movies. Plenty of options are out there, one of which is bound to match both your love for dogs and any other interests.
A dog training career isn't right for everyone. However, if you're the type of person who loves dogs, works well with people, and looks forward to a career where you can give back to society through shaping dogs to their full potential, it could be the perfect match for you.
Getting Certified as a Dog Trainer
There are a variety of organizations that can give you certification.  Examples of certifications are the CPDT-KA (Certification Council for Professional Dog Trainers) and the CDBC (International Association of Animal Behavior Consultants). Also see the Association of Pet Dog Trainers.
More Articles:
Highly Skilled Worker Shortage in a Recession?
The Fastest Growing Careers of 2012
What is the Real Unemployment Rate?
Networking to Find a Better Job
From Amazon:
Imagine Life with a Well-Behaved Dog: A 3-Step Positive Dog-Training Program
Books by "The Dog Whisperer"
Cesar Millan
How to Raise the Perfect Dog: Through Puppyhood and Beyond
Cesar's Way: The Natural, Everyday Guide to Understanding and Correcting Common Dog Problems
Guest post contributed by Matthew Hosford for How2Become. Matthew is passionate about his dogs. He has extensive experience as a police dog trainer. Matthew also enjoys writing freelance where he shares his insights and experience on various blogs.