It's natural to have your ups and downs with fellow employees. You're brought together by work and shared strategic goals, but your personalities and temperaments may not always mesh as well as you'd like. And you likely have differing opinions and ways of getting things done than a co-worker, too. So even though you may love your job, sometimes the worst part is just getting along with your teammates.
While you can't avoid strife entirely, you should work to resolve any differences as quickly as possible and improve communication skills from both sides of the disagreement. If you don't, it's likely that a simple argument can lead to bigger issues that get in the way of productivity and creativity.
For starters, remember that a calm, rational person is easier to deal with—and that includes you. Whenever tempers rise, give yourself some space to lower them again before you try to resolve things. What else can you do at work to get through arguments? This graphic can help.
You are not alone:
The first key is to realize that you are not alone 85 percent of employees experience conflict at some point. As a matter of fact, I would dare to say that the 15% who say they don't ever have conflict are either lying, dead or take high doses of Valium.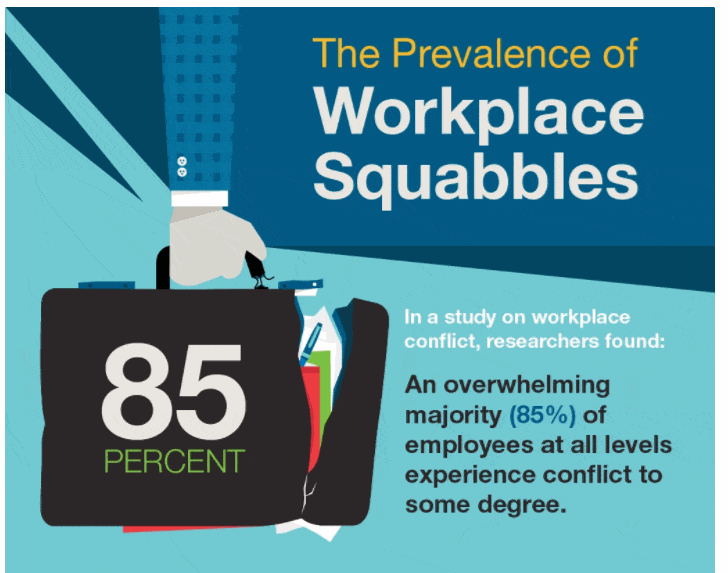 As a matter of fact U.S. employees spend 2.8 hours out of every week dealing with some sort of conflict. If it gets bad enough it can cause ulcers, and other stress related illnesses resulting in absence from work or even permanent illness.
Most workplace conflict exists in entry level or front line roles. Perhaps this is due to lower education levels, less experience in dealing with others or simply the nature of dealing with customers all day.

Or perhaps it is due to personality conflicts, warring egos, stress, and heavy workloads.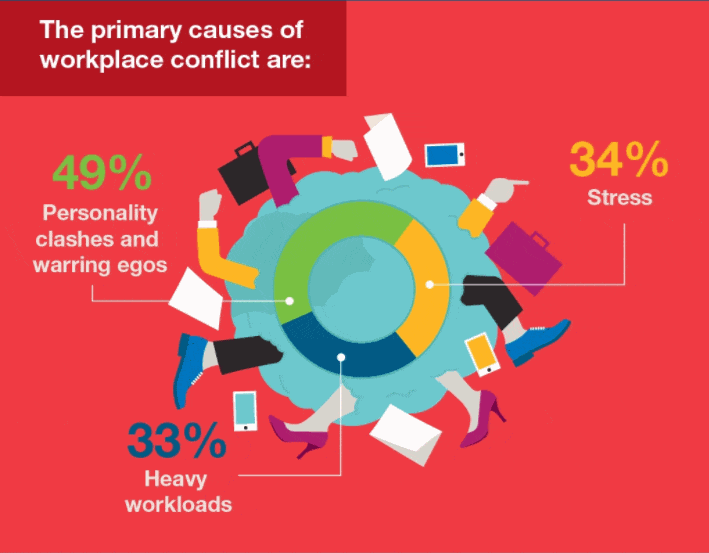 54% of employees feel that their managers could do a better job of managing conflict.

So what can you do to reduce conflict?
According to Cafe Quill the key to resolving workplace squabbles like an adult is to:
Calm down, and then tackle the issue-
If you find yourself in an argument, take a few minutes to create some space and clear your head. If you receive an email from a coworker that bothers you, don't respond right away. Put the issue to the side until you're able to look at it more objectively.
State your case thoughtfully-
When it's time to meet and talk it out, make sure you think through your words first. Be tactful instead of automatically playing the blame game. Realize that some people are more sensitive, so even if you tend to be straightforward and serious, it's a good idea to be diplomatic.
Look at the problem, not the person-
If you're butting heads with a specific colleague, it's easy to bring judgments into the picture. Do your best to stay focused on the situation and untie it from the person you have personality issues with.  
Be forward thinking-
View conflict as an opportunity to focus on the future and fixing the problem to avoid a recurrence, versus getting stuck in the past and getting into a "he said, she said" scenario. For instance, if there was a misunderstanding about delegating a project, identify where the issue went astray, and focus on how to make sure it doesn't happen again.
Listen up-
 Before jumping in with your own thoughts and concerns, give active listening a shot: Refrain from speaking and really take note of what the other person is saying about the conflict. Maybe your boss won't allow you to hire someone you need on the team. Make a conscious effort to hear him or her out and think about the reasons why you weren't given a budget for a hire, versus jumping directly to assumptions, like "My boss is so cheap and controlling and doesn't understand what I need!"
Pick your battles-
You're not going to win every argument or feel 100 percent in agreement at work. Challenges are normal, and not everything is going to end on a high note and make you feel fully satisfied. That's okay. Pick your battles. Work toward resolving the challenges that could have serious repercussions, including decreased productivity, poor performance, and work dissatisfaction.
Celebrate agreement-
Once you come to an agreement, acknowledge that you both (or all) worked through the discomfort to come out of the situation with more clarity and less stress. Grab lunch or an after-work drink to make amends and keep moving forward.
There's no way around it: Workplace conflict happens. So rather than try to avoid it at all costs, use these tips to approach tension in a healthier way and make the relationship with your colleagues and your job as productive as possible.  This article originally appeared here.
You might also like: