By Steve Hutton
In the current economic climate it is vital that firms look to their own in-house policies to ensure that efficiency and productivity are maintained to give them the very best chance possible of enduring these uncertain times. One area in which companies can increase productivity is through reducing absenteeism and attrition, whilst also maintaining morale at the highest level possible. As they say "a happy workforce is a productive workforce". There are a great number of ways that this can be achieved but the one I would like to focus on most is that of the working environment.
Often companies will prioritise the budget they have available to be spent on new systems, training and improving existing policies and procedures at all levels of the business. Whilst I agree that these can have an impact on improving productivity and output within the firm, they can be expensive and often are only be of limited duration. Often, by the very nature of these programs as soon as the projects have been completed, the Human Resources department suggests further programs and the cycle begins again.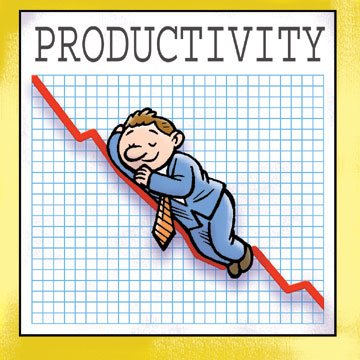 The Importance of the Working Environment to Productivity

   
A more cost-effective method would be to improve the working environment on the company premises. Often simple updates can have a significant impact on morale and productivity. For instance, by simply updating the décor within a company building, there can be a significant increase in morale for staff at all levels. Where once the building may have had dated, 70's styling, consider a more contemporary minimalist approach. Simple factors such as giving the office a neutral white coat of paint, can make the office feel fresher and look brighter and cleaner and thus be more conducive to creating a better working atmosphere. Something as simple as this could be incredibly cost-effective and would not need to be updated again for a number of years, resulting in an efficient use of company budget.
Another means to improve the work environment is the introduction or upgrading of the HVAC units on the premises. Although not readily obvious, the benefits of such an action are numerous and whilst it can mean a significant outlay initially, the long-term advantages of these systems far outweigh the cost. By simply ensuring that the ambient temperature within the building stays at a consistently comfortable level, staff productivity can be maintained at the very optimum level of efficiency. Few things affect comfort and thus effective output more than temperature. During the winter months staff may be too cold to function at their best. Conversely, should they be too hot during the summer months, this will also negatively impact their work. The benefits of air conditioning units, such as those supplied by Air Options do not end there either. Ensuring staff have clean, filtered, circulated air can have a huge positive impact on their health. This will have the knock on effect of reducing absence through illness as germs are not circulated between staff, reducing infection of contagious sicknesses. This in turn will mean higher productivity and less money wasted on absence management and disciplinary procedures having to be put into action.
All in all, the benefits are clear, if you want to improve productivity in an increasingly difficult financial environment, then the solution may be no further than improving the company premises. Morale will improve, absences will be reduced and work output will increase.