A Career In Electronic Engineering-
Look around and you will find yourself surrounded by a huge web of electronic products. Electronic products like televisions, iPads, laptops, printers, cellphones, and many more have become an integral part of our lives. Apparently, more and more people depend on these products daily and the absence of even one electronic equipment in a house or in a office leaves them wondering how to carry on.
I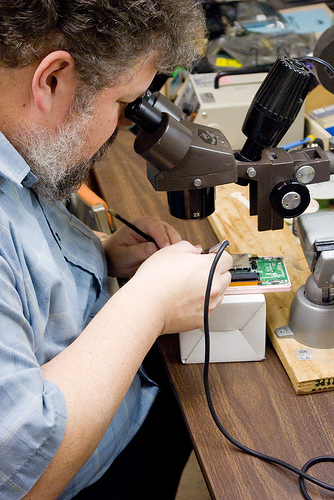 ncreased demand for consumer electronic goods, telecommunications, computers, devices, vehicles have given a boost to this sector. With the increase in such demand, the vacancies for efficient and innovative electronic engineers are also increasing at a same pace. There are a huge numbers of electronics jobs available in the electronics manufacturing sector. Electronic manufacturing and designing companies are always on a hunt of engineers with fresh idea and innovative thinking, to survive in the competitive market. These industries support a wide array of career in designing, manufacturing, production and support of electronic goods.
What Electrical and Electronics Engineers Do
Electrical and electronic engineers are not the same thing. Electrical engineers design, develop, test, and supervise the manufacturing of electrical equipment such as electric motors, radar and navigation systems, communications systems, and power generation equipment. Electronics engineers design and develop electronic equipment, such as broadcast and communications systems—from portable music players to global positioning systems (GPS).
Industries Associated With Electronic Engineering
A wide range of industries and sectors need  electronic engineering.  Among the specialized industries for electronic engineers are:
Energy
Power
Telecommunications
Manufacturing
Transportation
Automotive
Medical
Aerospace
Security
Types of Electronic Engineering Jobs
 Every industry involved in electronics provides a wide range of job opportunities depending upon the requirements, purpose and speciality of the particular sector.  There are different types of tasks that an engineer may have to perform in a business environment, ranging from designing to providing support.
Some of the major types of electronics engineering jobs are:
Engineering Design jobs
Electronic Support Engineering
Electronics Manufacturing Engineering
Project engineering
Research and development Engineers
Test engineering
Electronic equipment sales
Electronics quality assurance
Field engineering
Product development
Technical documentation
Scope Of Electronic Engineering 
The demand of technology and electronics is an ever-growing process and will continue to increase in the future as well. Be it consumer goods or high-tech devices, there is a huge number of consumers looking for innovative and unique equipment, gadgets, components and so on, in order to make their life easier and comfortable. To meet the ever growing consumers demands, industries need to hire engineers to develop innovative ideas and the ability to design the same. Also, due to the increasing demand for electronics products, the demand for electronics jobs will continue to grow.
According to the U.S. Bureau of Labor Statistics Occupational Outlook Handbook the median pay for Electronic Engineering is $87,180 or $41.92 per hour. A Bachelor's degree is required as a minimum. In 2010 there were 294,000 electronic engineering positions in the U.S. and between 2010 and 2020 there will be another 17,600 more jobs added. Unfortunately, this rate of growth is slower than average.
Author Bio–
Mike is a freelance writer who writes on different topics such as education, career and social media.