The Bureau of Labor Statistics (BLS) Employment Projections program projects that between 2010 and 2020 roofing jobs will increase 18 percent. They reported that approximately 136,700 roofers worked in 2010 and that the number will rise to about 161,000 in 2020. Although the overall economy is unpredictable in early 2013, the roofing industry predicts some job growth. Even if new construction slows, roofers will find work in repairing or replacing the nation's aging roofs.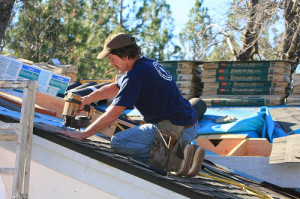 On the BLS roofing webpage, statistics and maps for all fifty states list employment as roofers per thousand workers. In some areas, such as Morrison, Tennessee, the number of roofing jobs is relatively high at approximately 2.91. When pursuing the best area for roofing jobs, workers need to consider the number of roofing jobs and the annual wage for roofers in that region. In Morrison, the annual wage is relatively low at $29,750. In comparison, Rockford, Illinois, lists 1.24 roofers per thousand with wages at $67,740.
Another consideration for roofers seeking work is the work environment. Some people prefer large metropolitan areas while others favor rural areas. The BLS categories their statistics by metropolitan and nonmetropolitan areas and predicts roofing opportunities in each type of locale. The top five high growth areas in each category are:
Roofers in Metropolitan Areas
Metropolitan areas with the highest concentration of jobs (annual wage in parenthesis)
Port St. Lucie, Florida 4.29 ($34,360)
Great Falls, Montana 3.16 ($22,370)
Wheeling, West Virginia 3.14 ($43,560)
Greeley, Colorado 2.91 ($35,260)
Morristown, Tennessee 2.69 ($29,750)
Roofers in Non-metropolitan Areas
Nonmetropolitan areas with the highest concentration of jobs (annual wage in parenthesis)
Southwestern New Hampshire 2.70 ($40,920)
Southeastern Wyoming 2.14 ($39,490)
Western Colorado 2.06 ($35,550)
Northeast Iowa 2.01 ($28,580)
Southwest Idaho 1.95 ($23,030)
Temporarily, roofers will find additional jobs in areas where Hurricane Sandy or other severe storms have damaged roofs and homes. Where houses, stores, schools and other facilities are beyond repair, construction crews will need roofers to roof the new builds. In other areas, workers will need to repair the roofing or completely re-roof existing buildings. When seeking work after a natural disaster, roofers should seek employment with established businesses that are FEMA approved. In an article in Roofing Contractor titled "Under One Roof – Hail and Wind Restoration," Patrick Harmon notes that storms cause $10 to 25 billion in roofing damage every year in the United States.
Another factor that is affecting the job outlook for roofers is the predicted rise in number of people who are retiring from the business. This will open jobs for younger roofers, even in areas where the job outlook is dismal. Other reasons for job openings include the hazards of the job, the harsh weather that roofers often have to work through and similar job characteristics. Many people consider roofing a "filler" job and work it only while hunting for better jobs. As employment in other sectors rises, many of these temporary workers will abandon the roofing jobs.
The statistics in the BLS report on roofing jobs show that each state has its hotspots and its low spots for employment. For example, the chart shows that Arizona has a state average of 1.24 roofers per thousand workers. However, a close up view of the map shows that Tucson's number is 1.61, Prescott is 1.05 and the northern non-metropolitan area is only 0.62. Roofers need to consider specific regions instead of whole states when seeking employment.
This piece was written by William Cobb for the team at remedyroofing.com; visit them to learn about their
great roofing rates and deals
.