After graduation, many of your friends leave for college to earn a degree. And while you might have considered college yourself, it may not be for you. Whether you're still saving, or just don't have the time, college may not be in the cards right away. Statistics show many different jobs don't require a degree, and can pay higher wages. You may consider a few of these career options right after you graduate.
An Apprenticeship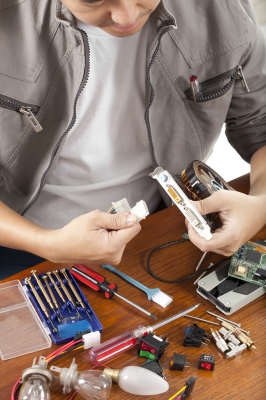 Many companies and unions sponsor apprentices. In an apprenticeship, you learn a skill or trade and are paid while you learn. Skilled trades such as electricians, plumbers, linemen, and chefs start as an apprentice. Apprenticeships generally take about four years to complete and have some classroom coursework, and registration. After training is complete, many apprentices are considered journeymen and earn much higher wages. Most sponsored programs pay for all training and registration, making your education free while you're getting paid. 
Outside Sales
Many companies that hire outside sales representatives are eager to hire young students right out of high school. Younger employees are willing to learn sales skills, travel more, and have no major financial responsibilities which makes them a perfect fit for such a flexible job. Outside sales companies offer extensive training and in many cases, pay for expenses such as gas, a cell phone, food and travel. Although some jobs are commission based, over time an outside sales job can be quite lucrative, especially for products that have recurring repeat sales, so that once you land the deal you get paid over and over.
Commercial Truck Driver
On average, commercial truck drivers drive vehicles weighing over 26,000 pounds. This requires a special driver's license, referred to as a CDL. To obtain a CDL, candidates must register with the Department of Transportation in their state. After passing a physical and drug test, candidates must pass a written and practical exam. Although many CDL drivers attend training, you can also do much of your studies at home on your own time. CDLknowledge.com offers extensive information for aspiring CDL drivers in each state. Within a short time frame, you earn your CDL license. Salaries for this occupation are high, even for those right out of high school. Although many companies require that drivers be over 21 due to higher insurance costs for younger drivers, a career as a truck driver can be a good choice for a High School grad.
Fork Lift Driver
Another driving career that doesn't require you to be so far away from home is a fork lift driver. Because of the danger of lifting heavy loads high into the air, driving a fork-lift may require an OSHA safety certification. Find a qualified school that teaches how to operate a fork-lift and offers the type of certification that you need. The regulations may vary slightly by state but  getting a forklift certification is actually pretty straightforward, just like getting a driver's license. You can take the written portion online and then you can take a half day or full day forklift training at a local training centers which should cost around $200 for a full-day of training.
Retail
Although many high school students work in retail jobs part-time, continuing a career in retail sales can lead to management opportunities in a few years. Many retailers promote from within, because the turnover rate is so high in retail. Usually the turnover rate isn't high because the job is bad, but because many individuals work in retail to earn some extra cash, pay for college, or work at a full-time job and work a retail job part-time. Retailers also take the time to extensively train staff to become managers. A full-time retail job can lead to higher paying job opportunities and bonuses within a few years.  Many of these careers can allow you to find rewarding full-time employment. They also allow you to make a lucrative paycheck without the costly, sometimes life-long expenses of a college degree. Not only do many of these careers provide paid training, often they pay higher wages than many careers that require a college degree.