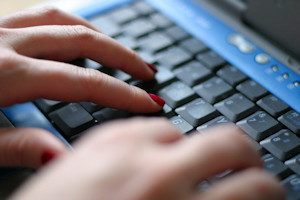 If you enjoy typing and are able to type relatively quickly, you might want  to try your luck with a data entry job. It is a wide field that provides a great opportunity to learn different things and test your typing skills. However, don't get fooled by the numerous data entry work from home scams and examine your opportunities carefully, especially if you lack experience.
Although not every work-at-home job is a way to engage you in illegal actions, the fact is that even legitimate offers are paid less than working from an office. Also, you must be informed about the data entry range, as transcription jobs are sometimes presented as part of a data entry service.
There is a lot to think about before applying for a data entry position. Therefore, avoid pointless job offerings and find a suitable data entry job by approaching this area of business armed with the proper knowledge.
Learn About Your Duties
First of all, prepare to dive into the data entry job responsibilities. Operating with highly sensitive data is not an option for inexperienced individuals. Nevertheless, for those who really want to work in this sector, a job of a data entry clerk will do just fine.
To become a data entry operator, a high school diploma is the minimum educational requirement for employment. Typing skills are the essential part of this job, and a data entry professional must fulfill speed requirements while paying attention to details.
As typical job posting might include:
POSITION SUMMARY:
Transferring data from paper format into proprietary database system 80%
Reviewing data for errors, correcting any incompatibilities and checking output 20%
AVAILABILITY REQUIREMENTS:
20-hour work week – 2pm – 6pm – Monday – Friday
POSITION REQUIREMENTS:
Accurate typing skills of 55+ wpm minimum, knowledge of touch typing strongly preferred. Typing test required.
Excellent knowledge of word processing tools (MS Office, Word, Excel)
Excellent written and verbal communication skills
High School diploma required
Ability to pass a thorough background check back to the age of 18
Ability to pass pre-employment drug screening
COMPENSATION
$15 per hour
Know What You Are Hired For
Start familiarizing yourself with data software organizations use and practice typing daily. For some companies, knowing how to work on programs such as Microsoft Office is a must. However, others might not require software knowledge. Consider affordable courses and online training to gain the experience. It is not enough to tell the employers what they want to hear; you must also prove it.
Set Your Price
As data entry work falls into the repetitive jobs category, many companies choose to outsource data entry tasks and save costs by hiring staff for a lower price. According to the Bureau of Labor Statistics (BLS), the average payment for common data entry service, not including typing and transcription service is about $14. Be prepared to work for minimum wage until you feel confident in your skills. Don't oversell yourself and demand more than you can provide.  The following chart from the BLS shows the distribution of data entry jobs throughout the United States.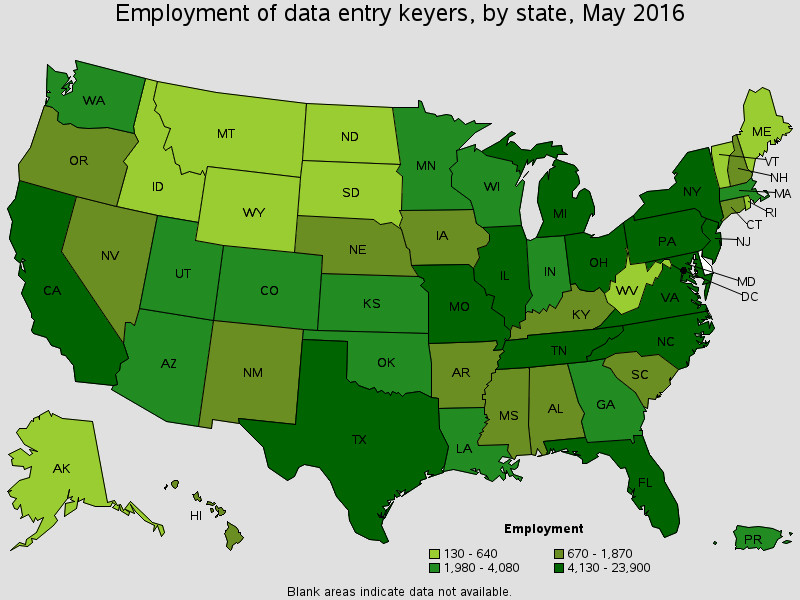 States with the highest employment level in this occupation:
| State | Employment | Employment per thousand jobs | Location quotient | Hourly mean wage | Annual mean wage  |
| --- | --- | --- | --- | --- | --- |
| California | 23,900 | 1.50 | 1.08 | $15.77 | $32,800 |
| Texas | 20,310 | 1.73 | 1.25 | $14.18 | $29,500 |
| Florida | 16,250 | 1.98 | 1.42 | $14.11 | $29,360 |
| New York | 12,760 | 1.40 | 1.01 | $16.53 | $34,380 |
| New Jersey | 9,340 | 2.36 | 1.70 | $18.28 | $38,020 |
According to the BLS a step above ordinary data entry is Medical Records and Health Information Technicians which requires a bit more specialized knowledge and probably a special post-secondary certification. But if you are a good typist and are willing to take a course or two this can be a nice step up. The median pay is $18.29/hr. and the job growth is considered "Above Average" meaning that there will be plenty of job opportunities.
Renew Your Resume
If you have not done this already, start building your network. Creating and maintaining your personal profile on a social network is an excellent way to get noticed and get the job. Social media is a large community which can provide valuable connections.
On the other hand, to increase your chances of getting hired, you should work on the resume and highlight your successes. Enhance the computer skills you possess and any additional assets regarding the data entry job, but keep in mind that you will have to prove your abilities, so don't stretch the resume to the point of lying about your talents.
Be Professional
If you choose to educate yourself about data entry and work on the job requirements, there is no need to fear failure. The next step is to wait for an interview call that will certainly come with the amount of effort you've put into this.
Now is the time to act like a professional, put on your best clothes, remain calm, and communicate with the employer. Don't be afraid to ask questions and present yourself as a responsible and motivated person.
Data entry jobs are currently in high demand. The good thing is that the basic requirements are low, so everyone can start on an entry level job and work their way up. However, you can benefit from countless teaching classes, and if you are skilled enough, you can even get hired without any previous experience.
Prepare, research, and learn everything you can about data entry positions and requirements to improve your skills, resume, and show the best of your personality and knowledge on a job interview.