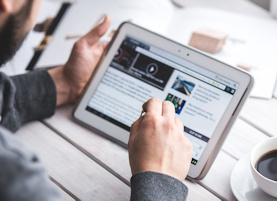 Whether you are looking for your first job or a new career in 2017, you should always consider the economy before beginning your search. For instance, today unemployment rates are low and many industries are still looking to hire. Several jobs require a college degree, but others do not. The more skill in a particular area you have the better your chances will be. If you are on the hunt, you'll need to know your area and the industries that are hiring. You'll also have to know yourself and what kind of job you might be suited for. Below are five great careers to consider for 2017.
Environmental Science and Protection Technicians
If you like science and engineering, a career in environmental engineering might be perfect for you. Environmental engineering technicians work with scientists and environmental engineers in positions throughout the city and government. They work in field and laboratory settings, and develop devices that can prevent environmental hazards.
Environmental engineers perform field and lab tests. An environmental engineering technician may investigate the sources of pollution, and may study the long-term side effects of pollution. Some environmental engineering jobs do not require a degree depending on the work involved. An associate degree in environmental engineering can improve your job prospects. According to the Bureau of Labor Statistics (BLS) the average salary for an environmental engineering technician is $43,030 (which is pretty good for only an Associates Degree!)
Mortgage Loan Officer
These professionals work within the real estate and bank industry. They often are able to work from home and have more flexible schedules. Training is required and places like Succeed At Eagle offer onboarding processes and trainings for Mortgage Loan Officer Jobs that make entry easy.  According to the BLS loan officers average $63,430 per year and typically require a Bachelor's degree. Most loan officers are employed by commercial banks, credit unions, mortgage companies, and related financial institutions. Most commercial and consumer loan officers work full time, and many mortgage loan officers work extensive hours. Loan officers evaluate, authorize, or recommend approval of loan applications for people and businesses. The need for loan officers fluctuates with the economy, generally increasing in times of economic growth, low interest rates, and population growth—all of which create demand for loans.
Estheticians
Estheticians provide skin care treatment services. If you want to be an esthetician, you should attend a vocational school and complete a certification program. Most programs can be completed in less than two years. Licensed estheticians can perform spa services and hair removal services. They usually work in salons and beauty and health spas. Some also work in medical offices. Although most work full time, many work evenings and weekends. This is particularly true for self-employed workers who run their own salons. Skincare specialists must complete a state-approved cosmetology or esthetician program and then pass a state exam for licensure, which all states except Connecticut require. Newly hired specialists sometimes receive on-the-job training, especially when working with chemicals. According to the BLS the median hourly wage for skincare specialists was $14.47 or $30,090 per year.
Dental Assistants
Dental assistants perform many tasks, ranging from providing patient care and taking x rays to record keeping, and scheduling appointments. They also prepare and lay out dental instruments. They also prepare and lay out dental instruments. Some dental assistants perform secretarial duties and many do not have formal training, but some dental assistants have completed a certification program. Many trade schools and community colleges offer dental assistant programs but there are several possible paths to becoming a dental assistant. Some states require assistants to graduate from an accredited program and pass an exam. In other states, there are no formal educational requirements.  Their duties vary by state and by the dentists' offices where they work. According to PayScale.com the average salary for a dental assistant is $34,998.
Dental Hygienists
Dental Hygienists clean teeth. They also use x-ray machines. They examine mouths, and are trained to look for signs of oral diseases. Dental hygienists work in public health agencies and dental offices. Dental hygienists need an associate's degree in dental hygiene. Programs typically take 3 years to complete. All states require dental hygienists to be licensed; requirements vary by state. The average salary for a dental hygienist is $72,330.
Salesperson
If you want to meet new people every day, you should consider a career in sales. Depending on the job, you may travel on a regular basis. You will sell interesting products and attend important meetings. Most salespeople have flexible schedules. In addition to the base salary, many salespeople earn significant commissions.
Retail sales workers include both those who sell retail merchandise, such as clothing, furniture, and automobiles, (called retail salespersons) and those who sell spare and replacement parts and equipment, especially car parts (called parts salespersons). Both types of retail sales workers help customers find the products they want and process customers' payments while requiring little formal education beyond high school. The median hourly wage for retail sales workers is $10.60 or $22,040 per year.
Wholesale and manufacturing sales representatives sell goods for wholesalers or manufacturers to businesses, government agencies, and other organizations. They contact customers, explain product features, answer any questions that their customers may have, and negotiate prices. Educational requirements vary for sales representatives and depend on the type of product sold. If the products are not scientific or technical, a high school diploma may be enough for entry into the occupation. If the products are scientific or technical, sales representatives typically need at least a bachelor's degree. The median annual wage for wholesale and manufacturing sales representatives is $59,080.
The economy is always changing. In the next few years, these jobs will need more skilled employees. These careers have great long-term prospects, and they can help you increase your net worth.