The U.S. Bureau of Labor Statistics (BLS) released the newest unemployment data for May. According to the BLS, the current "Seasonally Adjusted" Unemployment Rate for June 2014 (released July 3rd) is 6.1% down from 6.3% in May. The BLS "Unadjusted" Unemployment Rate is 6.3% which is up from 6.1% in May and April's 5.9% but down from January and February's 7.0% and March's 6.8%.
According to the commissioner of the Bureau of Labor Statistics, "Total nonfarm payroll employment increased by 288,000 in June… Employment in professional and business services rose by 67,000 in June and had averaged 53,000 per month over the prior 12 months. In June, employment within the industry increased in management and technical consulting services (+8,000), architectural and engineering services (+7,000), and computer systems design and related services (+7,000). Employment continued to trend up in temporary help services."
Gallup Unemployment Numbers Present a Different Picture
According to surveys by the Gallup organization Adjusted Unemployment was actually 6.5% in June (down from 7.2% in May)  and Unadjusted Unemployment was 6.8% which was down from 7.0% in May. But theoretically, the Gallup and BLS surveys are using the same methods but there is a 0.4% difference.  In January the difference was 1.4%,  in February the difference was  1% and in March the difference was "only" 0.7% and in April the difference jumped back up to 1.2% while in May the difference was 0.9%.

| | | |
| --- | --- | --- |
| | Adjusted | Unadjusted |
| BLS | 6.1% | 6.3% |
| Gallup | 6.5% | 6.8% |
| Difference | 0.4% | 0.5% |
So we have a major divergence between what Gallup is telling us and what the BLS is claiming. 0.4% may not sound like much but when you look at it as a percentage of the total it gives us a margin of error of  6.5%.  If we have 137 million people employed a margin of difference that large is the equivalent 8.9 million employees. See Is the Government Fudging Unemployment Numbers?  for the comparison of Gallup numbers vs. Bureau of Labor Statistics numbers.
In addition according to Gallup the U.S. Payroll to Population employment rate (P2P), as measured by Gallup, had been falling from mid-2013 but began picking up again in 2014. The P2P is the percentage of the adult population that is working full-time for an employer . A falling P2P could indicate rising unemployment although it could also indicate more people going to school, retiring or working part-time. The P2P was 42.9% in November (meaning that less than 43% of the people in the county are working full-time) down from 44.6% in July and 45.7% in October 2012. And in January the P2P was 42%, it rose to 43.1% in February but fell back slightly to 42.7% in March in April it rose slightly to 43.4%. In May it rose to 44.5% and in June it rose again to 45.0%.
The average P2P for 2012 was 44.4% and for 2013 was 43.8% so we are really only slightly ahead of 2012 no matter what the unemployment rate says. The number of new jobs is not keeping up with the population growth so a smaller percentage of the people are working. Over just the last 12 months the U.S. population has increased by roughly 2 ¼ million people!
Current US Unemployment Rate Chart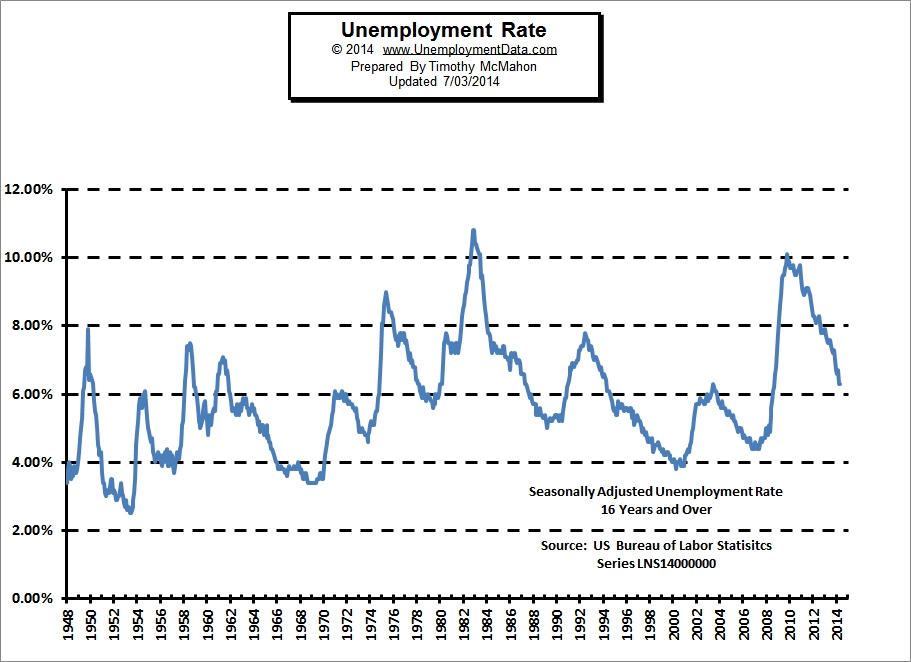 (Click for Larger Image)
If we compare the BLS unemployment numbers to their own employment numbers we can also get a better idea of what is really happening.
In June 2013 the BLS said we had 136.769 million* people employed (at least 1 hour a week) in November they say we had 137.942 million* employed. So that looks good. A net increase of  1.173 million jobs. during that same period the civilian non-institutional population increased by 811,000.
*Numbers based on originally released numbers- the numbers were revised in January 2014 to 137.195 million and 138.536 million.
To recap:
Unadjusted U-6
Unadjusted U-3
Adjusted U-3
Employment
Civilian Population 
Net  
December 2011
 15.2%
 8.3%
8.5%
133.625 Million
240.584 Million
December 2012
 14.4%
 7.6%
7.8%
135.938 Million
244.350 Million
January 2013
 15.4%
 8.5%
7.9%
133.074 Million
244.663 Million
February 2013
 14.9%
 8.1%
7.7%
134.112 Million
244.828 Million
March 2013

 13.9%

 7.6%

7.6% 

134.917 Million

244.995 Million

 

April 2013

 13.4%

 7.1% 

7.5% 

135.911 Million

245.175 Million

 

May 2013

 13.4%

 7.3% 

7.6% 

136.793 Million

245.363 Million 

 

June 2013

 14.6%

 7.8% 

7.6% 

137.195 Million

245.552 Million 

 

July 2013

 14.3% 

 7.7% 

7.4% 

136.050 Million

245.756 Million

 

August 2013

 13.6%

 7.3%

7.3%

136.477 Million

245.959 Million

 

September 2013

 13.1%

 7.0%

7.2%

137.069 Million

246.168 Million

October 2013

 13.2%

 7.0%

7.3%

138.013 Million

246.381 Million

November 2013

 12.7%

 6.6%

7.0%

138.536 Million

246.567 Million

December 2013
 13.0%
 6.5%
6.7%
138.266 Million
246.745 Million
January 2014
 13.5%
 7.0%
6.6%
135.451 Million
246.915 Million
February 2014
13.1%
7.0%
6.7%
136.192 Million
247.085 Million
March 2014
12.8%
6.8%
6.7%
137.136 Million
247.258 Million
April 2014
11.8%
5.9%
6.3%
138.288 Million
247.439 Million
May 2014
11.7%
6.1%
6.3%
139.192 Million
247.622 Million
June 2014
12.4%
6.3%
6.1%
139.761 Million
247.814 Million
2 mo. Change

0.6

0.4%

-0.2%

1.473

Million


     375,000

 1.473 -.375=

1.098

12 mo. Change

-1.7%

-1.2%

-1.3%

 2.566 Million

 2.262

Million

 2.566-2.262=

0.304
So over the last 12 months employment has increased 2.566 million and the civilian non-institutional population (a fairly narrow measurement of population) increased by 2.262 million so that results in a net gain of 304,000 jobs.  According to Gallup's P2P, 45.0% of the population is working.
Historical Context
Currently the US (unadjusted) unemployment rate is 6.3% according to the "Current Population Survey" (CPS; household survey) and according to the newest release of Current Employment Statistics (CES) survey (the Employment Survey) in June there were 139.761 million people employed up from 138.266 in December 2013. Of course based on the number changes there were 513,000 more people working in December (according to January calculations) than there were in the same month (according to December calculations). A magical increase of 1/2 million jobs out of nowhere.
Discouraged Workers:
Back at the peak of the unemployment, there was some discussion in the media about "discouraged workers" U-6 is the broadest measurement of unemployment which includes "discouraged workers" and part-time workers who would rather be working full-time but can't find full-time employment.  Back in November 2011 the unadjusted U-6 unemployment rate was 15.0% and in November 2012 just in time for the election it was down to 13.9% but in December 2012 it jumped up to 14.4% and in January 2013 it jumped back to 15.4% (worse than November 2011) in February 2013 it was 14.9%. In both April and May 2013 it was 13.4%, while in June it jumped back up to 14.6%. Gallop calls this the "Underemployment Rate" and says it is was 17.3% in July 2013, 17.4% in August and 17.1% in September exactly the same as July 2012 but down from 18% in July of 2011.
Of course the BLS is now telling us U-6 in June 2014 is "only" 12.4% while Gallup says it is 15.8%. There is a 3.4% difference between Gallup's numbers and the BLS numbers.  Or a 27.4% margin of error

See U-6 Unemployment Rate for more information on the broader U-6 unemployment calculation that includes these "discouraged" unemployed and gives a truer picture of the total unemployment situation. Also see the Misery index ( which includes Unemployment Rate+ Inflation Rate). The adjusted unemployment rate in January of 2009 when Obama was sworn in was 7.8% the current adjusted unemployment rate is 6.3% if we accept the government numbers or 7.5% if we use Gallup numbers. In the intervening years the rate reached a peak of  10.1% with an average of 8.54%.  The average unemployment rate during the Bush presidency was 5.3% and during the Clinton presidency  it was 5.2%. In addition to looking at the unemployment rate, I prefer to look at the actual employment rate, which often shows a different picture, in that we can see how many people are actually employed and it is less easily manipulated, since the number of people who have opted for retirement or just stopped looking for work is not a factor.  See the Current Employment Data.
How the US Government Comes Up with the Current Unemployment Rate
According to the U.S. Bureau of Labor Statistics they don't actually track the unemployment numbers but instead they base the all important "Unemployment Rate" on a survey. You would think they would collect the numbers from the 50 states who would get them from their unemployment offices. But that is not how it is done. Unemployment rates are calculated based on a random survey called the Current Population Survey (CPS). Instead of calling the main office of 50 state offices, the government  calls up 60,000 households every month and then estimates the unemployment rate based on that sample. According to the BLS,
Every month, one-fourth of the households in the sample are changed, so that no household is interviewed more than 4 consecutive months. This practice avoids placing too heavy a burden on the households selected for the sample. After a household is interviewed for 4 consecutive months, it leaves the sample for 8 months, and then is again interviewed for the same 4 calendar months a year later, before leaving the sample for good. This procedure results in approximately 75 percent of the sample remaining the same from month to month and 50 percent from year to year.
For more information on how the BLS performs the survey see BLS: How the Government Measures Unemployment Unemployment data is interesting but my question is always… yeah, but how many real people actually have jobs? In addition to calling 60,000 households, the government also performs a Current Employment Statistics (CES) survey where they collect data from employers. The CES survey sample is larger and so the employment data is considered more reliable than the unemployment data. For more information See: Current Employment Data Historical Employment Data Chart The Misery index measures inflation plus unemployment and is a good measure of the discomfort of the country's population. Current Employment vs Unemployment Chart Are they just two sides of the same coin or is there more? Sometimes the best thing to do during times of economic decline is to go back to school and wait out the decline while improving your skills at the same time. See The Difference a Degree Makes in Unemployment Levels for more information on how a degree might help.
Source: US-BLS Current Unemployment Rate Data