The U.S. Bureau of Labor Statistics (BLS) released the July Unemployment figures on August 1st. The Seasonally Adjusted Unemployment Rate was 6.2% up from 6.1% in June. The Unadjusted Unemployment rate was also up from 6.3% in June to 6.5% July. Of course the spin-doctors at the BLS said it was "virtually unchanged".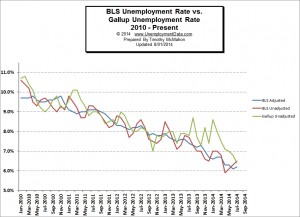 In a surprising turn of events, the unadjusted BLS numbers actually agree with the Gallup numbers with the rare occurrence that the BLS numbers are actually higher than the Gallup numbers for the first time in 17 months.
Of course, we shouldn't get too excited because the "adjusted numbers" are still a bit on the low side and the smoke and mirrors coming out of the BLS have simply shifted to the Employment numbers.
Employment Numbers
According to the commissioner of the Bureau of Labor Statistics monthly report, "Total non-farm payroll employment increased by 209,000 in July, the same as its average monthly gain over the prior 12 months. In July, employment grew in professional and business services, manufacturing, retail trade, and construction."

So we might begin to wonder if Employment went up, how did unemployment also go up? Of course, the [Continue reading]