September Employment Numbers Disappointing
Apparently U.S. employers cut back on hiring over the last two months. The expectation by economists polled by Reuters was that there would be a net gain of 203,000 jobs in September.
But when the BLS released their "preliminary estimates" for the employment situation for September non-farm employment rose by only 142,000 in September. And to make matters worse, August numbers were adjusted down resulting in the smallest Seasonally adjusted two month gain in over a year.
The BLS Commissioner's report stated, "Job gains occurred in health care and information, while mining employment fell… The number of persons unemployed for less than 5 weeks increased by 268,000 to 2.4 million in September, partially offsetting a decline in August… Thus far in 2015, job growth has averaged 198,000 per month, compared with an average monthly gain of 260,000 in 2014."
So 2015 has averaged only 76% the job growth that 2014 had and at 142,000 September was only 54% of 2014's average. 34,000 new jobs were created by healthcare, 31,000 came from professional and business services, 24,000 from retail trade employment, and food services and drinking places added 21,000 jobs. On the other hand, mining and mining support lost -17,000 jobs. So it appears all the high paid mining workers are now working at either McDonald's or Walmart. Not a good trend at all!
See Current Employment Commentary for more information.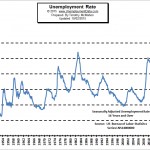 The U.S. Bureau of Labor Statistics (BLS) also released the newest unemployment data for September 2015 today. According to the BLS, the current "Seasonally Adjusted" Unemployment Rate for September is 5.1% identical to August. The BLS reported the "Unadjusted" Unemployment Rate is 4.9% which is lower than August's 5.2% . See Current Unemployment Chart for more information.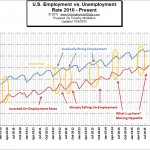 In our chart of employment vs. unemployment we compare them and although you would expect that employment and unemployment are simply the inverse of each other (i.e flip one over and you have the other) actually there are several anomalies in the data. Because the U.S. Bureau of Labor Statistics (BLS) uses two separate surveys to calculate the data it helps us see [Continue reading]